We screwed up once before in Iceland!
June 6th, 2009 | by: Jan |

Comments(49)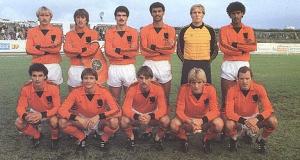 Oranje in 1982 standing from left to right: Dick Schoenaker (Ajax), Ben Wijnstekers (Feyenoord), Michel van de Korput (Torino), Ruud Gullit (Feyenoord), Hans van Breukelen (FC Utrecht), Frank Rijkaard (Ajax). Sitting: Gerald Vanenburg (Ajax), Peter Boeve (Ajax), Edo Ophof (Ajax), Wim Kieft (Ajax), Willy van de Kerkhof (PSV).
Historically, Iceland is an easy opponent for Oranje. But the last Iceland away game was a drama for Holland. In 1982, we played 1-1 on the island, in the same group as Spain – Malta's infamous 12-1.
The way Oranje prepared this away game is totally different than the one in 1982. This time around, Oranje travels north two days ahead of the game. Van Marwijk booked a luxury hotel and the players have adapted to the cold temperature.
In August 1982, a young and ignorant Ruud Gullit walked out of the plane in his shirt and caught a cold. Another group of internationals hadn't even showed up, finding the club games more important. And Oranje booked a hotel right next to the airport Keflavik.
Ajax midfielder Dick Schoenaker: "I could see the landingsstrip right next to my room. And since it was summer, we had sunlicht for almost 24 hours. We drove for 50 kilometers and ended up somewhere where a sign said "stadium". I'm sure no one would have recognized it without that sign. The bus drove almost onto the pitch to let us out. There was only one stands on the other side of the field."
In that venue, Kees Rijvers' team dropped two points in the race to the EC1984. Feyenoord icon Ben Wijnstekers: "It was the changing of the guards, so to speak. The oldies from 1980 didn't play anymore. Kees Rijvers wanted to use the young talents."
Frank Rijkaard and Ruud Gullit already had their debut a year earlier. In the years after, he'd bring the Koeman bros, Jan Wouters, Adri van Tiggelen and Marco van Basten.
For the team photo on Iceland, we see the very young faces off Gullit and Gerald Vanenburg. Wim Kieft, the EC1988 supersub, was there too. Their third, second and fifth international game, respectively. Rijkaard played his fifth cap too.
Willy van de Kerkhof was the only experienced player. Ben Wijnstekers, Torino defender Michel van de Korput and Hans van Breukelen were so-called mid-tier players.
De Breuk still remembers the impressions. "It was all new for me. I would travel straight to Nottingham, England, where I would make my debut some time later. I also remember that huge chance for Schoenaker in the last minute. He needed to put it away with the inside, but the ball bounced off his heel. Damn, we were all pretty sick after that."
Dick Schoenaker can't remember his howler. "I missed an open chance before time? Really? I don't think so… I do remember I scored the equalizer…"
As a sign of the time, the team pic shows Oranje as a team of mustaches. With sub Jurrie Koolhof the number of hairy upperlips was eight.
Including the Errol Flynn mustache of Vanenburg. "At PSV, they all had moustaches too. For me a reason not to. But to be honest, my wife didn't like it. She threatened never to kiss me again."
We all know now, that Spain beat us to the EC on goal difference. That away Iceland game was the clincher. The importance of that draw was evident later. Schoenaker: "But to say I screwed up because I missed in the last minute is a bit too harsh. I can come up with many situations like that. And in all honesty, I don't think it was actually me…."
Wijnstekers: "It was an expensive loss of points, sure. But Iceland had a good team then. They had three of four Bundesliga blokes, like Sigurvinsson. I think we lost the qualifications against Malta. We didn't score enough against them."
"We won the away game with 0-6, but at home we couldn't get passed the 3-0 until late in the game. We scored two more and won 5-0 but it was not enough.""
Van Breukelen didn't watch the Spain Malta game. "Viv Anderson took me to a junior game of Forest. He said: mate, they need to score ten goals! They won't. Relax! I spoke to my wife later over the phone and she said it was 11-1 at that time. I knew we were goners, then… We should have won in Iceland. Simple as that…"
Subscribe

Netherlands World Cup Blog RSS Feed

Share
Comments

2-1! ; pathetic 2nd half
Posted from
Netherlands

@Andrew ; Kuijt had Huntelaars spot ; Huntelaar came for Kuijt in the 65 minute
Posted from
Netherlands

thx Carlos,it worked – i saw the end and the icelandic goal. great – oranje is there!!!
Posted from
Hungary

welcoma back,goose!
Posted from
Hungary

hate to say this. But our defence is very awful….

Portugal Sucks – BIG time !
Posted from
Singapore

Carlitos:
Muchas gracias my friend. I could watch 15 minutes of the game thanks to you man. I owe you a beer hehe…

unfortunately not:-(
Posted from
Hungary

Stekelenburg ; 6,5 ; nothing to do this game, the iceland goal wasnt his mistake
Heitinga ; 7 ; played a very strong game, no mistakes and some strong defending, really liked some of his crosses
Ooijer ; 6,5 ; had few mistakes but didnt bring anything extra (like always)
Mathijsen ; 6,5 ; wasnt really tested (like all the other defenders)
vBronckhorst ; 6,5 ; some like the other defenders; reckon hes too slow to play against the big teams
deJong ; 7,5 ; really strong game, esp. in the first half, a real asset for the team
vBommel ; 7 ; played a very strong first half but played a rather bad second half ; scored a nice goal and did great on the defending side
vdVaart ; 7 ; played great the first half but didnt play good in the 2nd; was eager to show he can play and tried really hard
Robben ; 3,5 ; was pathetic, nothing worked .. did almost nothing right and missed some great changes
Kuijt ; 5,5 ; worked hard but it wasnt really 'his game ', started as central striker and ended up on the right side
vPersie ; 6 ; good first half, a bit unlucky with some changes, second half very poor like the rest of the team
subs ; Huntelaar and Babel ; both couldnt make the second half any better
First 20 minutes were great football ; could/should have been 4 -0 up, second half was pathetic; waisted another 45 minutes of my life …
we qualified for the WC but we should not forget we had a terrible easy poule..no real opponants
Posted from
Netherlands

Robben just had an unlucky match, not like he played that horribly. His usual individual actions just didn't come through, better luck next time. I mean, Kuyt wasn't more convincing in any way today, only he didn't trip over the ball, and stumble once or twice.
@ Jeroen, Heitinga didn't make any real horrible blunders, I don't know what match you're talking about. He did ok, I doubt if V.d.Wiel would have done much more attacking in this match, I'll admit in his defending, Heitinga did have some minor faults, not 100% convincing, but nothing really to worry about, I've seen him play much more focussed and strong against better opponents.
The real thing i found shocking but yet not surprising was how bad Ooijer but especially Gio played, Iceland put just a bit of pressure on our defence and Gio was being outplayed left and right and often I saw Ooijer marking air or coming to late.
I say take the oldies out for good, put Braafheid in and give Boulahrouz the chance to translate his statements and ambitions into real performance. Then you'd have to choose where to put Heitinga. And given the fact that I thought Mathijsen did fine, and Heitinga can do much better than today, I wonder if it's really necessary to put V.d.Wiel in.
Braafheid-Mathijsen/Heitinga-Boulahrouz-Heitinga/V.d.Wiel
If Boulah should really fail horribly to match Ooijer's appearance, it would be fair to choose other players, but you can at least give him a shot, since we're already have a certain place for the WC. If you think in that way, you could also give V.d.Wiel some time to show what he can do.
BTW De Jong suspended for next match, interesting to see who will fill that in, and I really thought V.d.Vaart did awesome, very quick on his feet, energetic, good passes, Real are really idiots by wanting to let him, Robben, Huntelaar and Sneijder go.
Posted from
Netherlands

@Alex ; unlucky??? did we watch the same match .. if youre a pro footballer playing like that is not unlucky…its just poor!
Posted from
Netherlands

Well, my impressions (I could watch the match on telly! There was a Brazilian pay-TV station which broadcasted it):
The deed is done. Oranje got it. Great, the guys didn't wasted time to solve the match. But it wasn't a "spectacle", as I read at a Brazilian website. I agree with goose-meister (We all missed you, fella! Great you're back!): the first 20 minutes were great, but Netherlands could maintain the pace to thrash Iceland. A 4-0 or 5-0 score would sky-rocket the morale. So, the 2nd half came, and the team suffered a goal. Concentration is necessary during the 90 minutes, not only during 87…
But, anyway, it's done. Now, winning Norway – sorry Finnster…
P.S.: What an awesome day, guys! Oranje – and Brazil thrashed Uruguay 4-0! At Uruguay! Since 1976 we hadn't beaten they at their home! Our team is improving. Let's watch at Confederations Cup.

When Van Bommel scored the 2nd goal the game was over. But I saw some good one touch passing.
I hope Bert plans well our friendlies because we need harder games in order to improve.
We are in South Africa!!!.

Guys:
The qualifyiers have been a piece of cake for Holland. We have to respect our rivals but they just weren´t good enough for our team. Anyway, what van Marwijk has achieved is impressing and the team is playing good football…but we can improve.
It will be very important now to look for the future and be realistic: van Bommel is a veteran but he is a real asset for the team but Ooijer and Gio are not the same players that they were before. They are very experienced but they are very slow and I don´t see them capable to play at the highest level in 2010. They are 35 or 36 years old and at that age you can´t recover your body like when you are younger. Saying this I think van Marwijk wanted to secure the qualification and now he will try with Braafheid as left full back and will use Heitinga or Boulahrouz at the back or he can even use van Bommel as a central defender and Mathijsen as the last man but I doubt van Marwijk will try van Bommel as defender.
The team looks strong and I am positive we have a chance to win but we have to be calmed because there are great teams and the competition will be very tough.
Holland needed a people manager and van Marwijk fits into that role because van Basten lacks that soft managerial skills very badly. Hup Holland!!!!

Yeeeeeeeeees we are in South Africa!!!
Posted from
United States

We have yet to be tested…I am skeptical…but we ought to have friendlies against the contenders thats the only real test.
Posted from
United States

defense and goalie are going to be their downfall in 2010
i think the announcer said 'this will clearly be 3-0′ atleast 3 times when robben was 1v1 with the keeper.
Posted from
United States

@Alex,
On three occasions I saw Heitinga trying to distribute the ball from the back, only to play it straight into the feet of one of the attacking midfielders. Against Iceland, you dont notice this so much. Against someone like Messi or Ribery, playing the ball into their feet from the defence in YOUR third of the field and they will PUNISH you. I saw much less threat from the right side with Heitinga instead of VdW.
I think van der vaart was the player of the match. van bommel played another terrific game. hes really surprising me. no red cards so far.
more analysis tomorrow when im not so tired haha. had to celebrate the victory in style….
Posted from
Netherlands

As we know in history,Oranje is a very powerful football team.The things that we need are consistency and mentality.Flipping back to old book's pages,i m still kind of worry though presently our team is playing superbly.I really hope Oranje can take the cup in Africa next year.
Another thing that i am worrying is our keeper,i don' t have the confident in him totally.Too bad Sar is not showing interest for a return.Let's hope that 2010 the draw is no longer a group of death for us..Beside consistency and mentality,luck is what we need too
Finally,we r in the World Cup 2010,yesssss !!!
~~~Hup Hup Holland,viva forever ~~~
Posted from
Netherlands

Goose buddy – great to have your analysis back man !
Yes it was a weak group but hold on lets just check back a few years.
1. We couldn't beat Macedonia last WC qualifiers – virtually same team +vGol and Sar
2. Scotland beat us at Home for the qualifier
3. Norway finished ahead of us the last time we were in the same group.
So Kudos Bert and the gang – Well done. Now I have a problem.
Should I accept my friends Cape Town stay invitaton ???
Posted from
Singapore

Hey guys the goals with our favourite Goooooooooooooooooooooooool commentary.
http://www.youtube.com/watch?v=li6pPx8K3u4
Posted from
Singapore

Iceland's goal against Oranje is proof that our denfense is our Achilles' heel.We did not even mark their players, and allowed to roam freely and score. "Defense Wins Championships"…and ours sucks, if we even have one.
I hope and pray this is not the way we play in South Africa!
Posted from
United States

Van Basten man…Brazil has 5 World Cup Championships and they hardly have had a good goalie and good defenders…most of their best defenders attacked better that what they defended like Roberto Carlos, Carlos Alberto, Lucio, Cafú and now Alves, Maicon and Maxwell as many others. What wins tournaments is a balanced team with experience and youth and although you can have some weaknesses like Holland has in the defense if you manage to explode your strenghts you can win big games and tournaments.
For example, in Euro 2008 Holland showed that their attack is very dangerous and in defense we were not that bad. But when the team lost concentration they lost against Russia but not because of the defenders but because the whole team had a pretty bad day. I think that Oranje´s defense is not that bad and that we have many defenders who are experienced, we don´t have a Koeman or a De Boer but 1 goal in six games is not a bad record, don´t you think?.
I am dreaming of a final between Holland vs. Brazil or Holland vs. Spain in which Holland will win and be crowned for the first time as World Champions…at least dreaming is free! Hehe.

HI Carlo,
And yes,i agree with you that Oranje didn' t get a solid results in the past but i am quite confident now because after our team started to play 4-2-3-1 but still there are things to be fix.
1- The back 4 is not stable.I can imagine if oranje plays against big guns like Brazil,Argentina and Spain.
2- The keeper is kind of woody type.Hopefully i am wrong !
3- Consistency,mentality and Luck.
Anyway,looking forward to see how Oranje plays against England in 12/08/2009.
Posted from
Netherlands

Friendly match against England? Nice!
I hope they're really gonna let us have it.
Line-up was the reason we didn't score too much against Iceland in the first half, no Huntelaar with his great finishing, no Huntelaar with Kuyt support in the second half (or any other support for that matter). Robben, Kuyt en to a lesser degree vPersie have NEVER been that good at finishing, so it's not really a surprise that you see Robben missing, VPersie hitting the post, Kuyt not that visible at all. There was clearly a final link missing.
Regardless, Robben should have made that 1v1 and he knows it.
vPersie always chooses the wrong spot to stand in, he combinated well with vdVaart though, but again, Huntelaar was missing to finish it off, and then you also see vdVaart trying to finish off the combinations, which again resulted in no goals because of less than excellent finishing.
vMarwijk choosing this starting line-up really worries me, as well as the way he substituted, bringing Huntelaar and taking out Kuyt has no use what so ever, both of them need to be on the field at the same time to get results. I think Kuyt en Huntelaar should both always be locked into the starting line-up if they're fit. vPersie probably should have been the one to suffer under vMarwijk's love-affair with vBommel. Nevertheless, vBommel played another good game, for me the man of the match was Mathijssen (followed closely by vdVaart).
Posted from
Netherlands
Comments are closed