We screwed up once before in Iceland!
June 6th, 2009 | by: Jan |

Comments(49)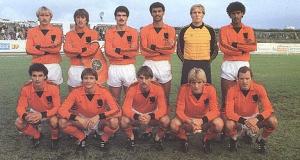 Oranje in 1982 standing from left to right: Dick Schoenaker (Ajax), Ben Wijnstekers (Feyenoord), Michel van de Korput (Torino), Ruud Gullit (Feyenoord), Hans van Breukelen (FC Utrecht), Frank Rijkaard (Ajax). Sitting: Gerald Vanenburg (Ajax), Peter Boeve (Ajax), Edo Ophof (Ajax), Wim Kieft (Ajax), Willy van de Kerkhof (PSV).
Historically, Iceland is an easy opponent for Oranje. But the last Iceland away game was a drama for Holland. In 1982, we played 1-1 on the island, in the same group as Spain – Malta's infamous 12-1.
The way Oranje prepared this away game is totally different than the one in 1982. This time around, Oranje travels north two days ahead of the game. Van Marwijk booked a luxury hotel and the players have adapted to the cold temperature.
In August 1982, a young and ignorant Ruud Gullit walked out of the plane in his shirt and caught a cold. Another group of internationals hadn't even showed up, finding the club games more important. And Oranje booked a hotel right next to the airport Keflavik.
Ajax midfielder Dick Schoenaker: "I could see the landingsstrip right next to my room. And since it was summer, we had sunlicht for almost 24 hours. We drove for 50 kilometers and ended up somewhere where a sign said "stadium". I'm sure no one would have recognized it without that sign. The bus drove almost onto the pitch to let us out. There was only one stands on the other side of the field."
In that venue, Kees Rijvers' team dropped two points in the race to the EC1984. Feyenoord icon Ben Wijnstekers: "It was the changing of the guards, so to speak. The oldies from 1980 didn't play anymore. Kees Rijvers wanted to use the young talents."
Frank Rijkaard and Ruud Gullit already had their debut a year earlier. In the years after, he'd bring the Koeman bros, Jan Wouters, Adri van Tiggelen and Marco van Basten.
For the team photo on Iceland, we see the very young faces off Gullit and Gerald Vanenburg. Wim Kieft, the EC1988 supersub, was there too. Their third, second and fifth international game, respectively. Rijkaard played his fifth cap too.
Willy van de Kerkhof was the only experienced player. Ben Wijnstekers, Torino defender Michel van de Korput and Hans van Breukelen were so-called mid-tier players.
De Breuk still remembers the impressions. "It was all new for me. I would travel straight to Nottingham, England, where I would make my debut some time later. I also remember that huge chance for Schoenaker in the last minute. He needed to put it away with the inside, but the ball bounced off his heel. Damn, we were all pretty sick after that."
Dick Schoenaker can't remember his howler. "I missed an open chance before time? Really? I don't think so… I do remember I scored the equalizer…"
As a sign of the time, the team pic shows Oranje as a team of mustaches. With sub Jurrie Koolhof the number of hairy upperlips was eight.
Including the Errol Flynn mustache of Vanenburg. "At PSV, they all had moustaches too. For me a reason not to. But to be honest, my wife didn't like it. She threatened never to kiss me again."
We all know now, that Spain beat us to the EC on goal difference. That away Iceland game was the clincher. The importance of that draw was evident later. Schoenaker: "But to say I screwed up because I missed in the last minute is a bit too harsh. I can come up with many situations like that. And in all honesty, I don't think it was actually me…."
Wijnstekers: "It was an expensive loss of points, sure. But Iceland had a good team then. They had three of four Bundesliga blokes, like Sigurvinsson. I think we lost the qualifications against Malta. We didn't score enough against them."
"We won the away game with 0-6, but at home we couldn't get passed the 3-0 until late in the game. We scored two more and won 5-0 but it was not enough.""
Van Breukelen didn't watch the Spain Malta game. "Viv Anderson took me to a junior game of Forest. He said: mate, they need to score ten goals! They won't. Relax! I spoke to my wife later over the phone and she said it was 11-1 at that time. I knew we were goners, then… We should have won in Iceland. Simple as that…"
Subscribe

Netherlands World Cup Blog RSS Feed

Share
Comments are closed