Van Marwijk: Messi is the best! Borst is the worst… :-)
December 16th, 2009 | by: Jan |

Comments(39)
Worst meaning sausage in Dutch
…
Sausage/worst being a euphemism for…..Advocaat (Dick) and Kok (Wim, former Dutch prime minister)…
As mentioned before – but I just have to repeat it here – Hugo Borst ( a highly talented writer, but an ego-tripper and terrible football analist ) made a total fool of himself trying to get Van Marwijk to agree that Wesley is a "annoying" lad.
Of course he is! Like Cruyff was. And Jan Wouters. And Frank de Boer. And Edgar Davids. It's the Survival of the Fittest in the dressing room. The Clash of Ego's. And Wes wants to be the guy with the biggest dick. Napoleon-complex, maybe. Who knows?
So, yeah. He wants to take all the set pieces. He wants to direct the game. And he will take care of anyone who doesn't pull his weight. Like Dirk Kuyt will, Mark van Bommel, Nigel de Jong and Andre Ooijer too, by the way. Winners!
The same Bert van Marwijk recently stated that he'll vote for Lionel Messi as the best player of the world. National team managers and skippers are allowed to vote for three players. Barca's dreh-und-angel punkt Xavi is voted second by Bert and Steve Gerrard is his number 3.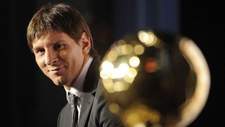 Gio van Bronckhorst, Oranje's skipper, picked Messi as number one and Xavi and Iniesta as numbers 2 and 3 (his old team mates).
With January 1 coming along nicely, the rumor mill is working overtime. Sir Alex is said to be deadly serious in trying to lure Huntelaar to Man United. The Mancunians have tremendously skilled players upfront (Valencia, Berbatov, Rooney, Owen) but are lacking in deadly finishers. Still, Klaas Jan will need to realize that Sir Alex applies the rotation system at his team and he might still not get too much playing time. South Korean Park was begged to stay at Manchester and Sir Alex is a big fan of the little dynamo but he doesn't play a lot. And no English commentator can compete with that moron on Italian tv with his JANKLASS GOENTELAAAAAARRRR…….
Ferguson has competition, I might add, from Twente Boss Steve McClaren, who wants Hunter to come and play for the Tukkers.
Ryan Babel might be traded with Pavlyuchenko of Tottenham.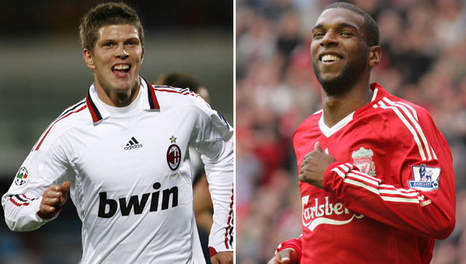 Subscribe

Netherlands World Cup Blog RSS Feed

Share
Comments are closed