Van Marwijk: Messi is the best! Borst is the worst… :-)
December 16th, 2009 | by: Jan |

Comments(39)
Worst meaning sausage in Dutch
…
Sausage/worst being a euphemism for…..Advocaat (Dick) and Kok (Wim, former Dutch prime minister)…
As mentioned before – but I just have to repeat it here – Hugo Borst ( a highly talented writer, but an ego-tripper and terrible football analist ) made a total fool of himself trying to get Van Marwijk to agree that Wesley is a "annoying" lad.
Of course he is! Like Cruyff was. And Jan Wouters. And Frank de Boer. And Edgar Davids. It's the Survival of the Fittest in the dressing room. The Clash of Ego's. And Wes wants to be the guy with the biggest dick. Napoleon-complex, maybe. Who knows?
So, yeah. He wants to take all the set pieces. He wants to direct the game. And he will take care of anyone who doesn't pull his weight. Like Dirk Kuyt will, Mark van Bommel, Nigel de Jong and Andre Ooijer too, by the way. Winners!
The same Bert van Marwijk recently stated that he'll vote for Lionel Messi as the best player of the world. National team managers and skippers are allowed to vote for three players. Barca's dreh-und-angel punkt Xavi is voted second by Bert and Steve Gerrard is his number 3.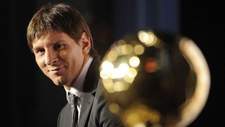 Gio van Bronckhorst, Oranje's skipper, picked Messi as number one and Xavi and Iniesta as numbers 2 and 3 (his old team mates).
With January 1 coming along nicely, the rumor mill is working overtime. Sir Alex is said to be deadly serious in trying to lure Huntelaar to Man United. The Mancunians have tremendously skilled players upfront (Valencia, Berbatov, Rooney, Owen) but are lacking in deadly finishers. Still, Klaas Jan will need to realize that Sir Alex applies the rotation system at his team and he might still not get too much playing time. South Korean Park was begged to stay at Manchester and Sir Alex is a big fan of the little dynamo but he doesn't play a lot. And no English commentator can compete with that moron on Italian tv with his JANKLASS GOENTELAAAAAARRRR…….
Ferguson has competition, I might add, from Twente Boss Steve McClaren, who wants Hunter to come and play for the Tukkers.
Ryan Babel might be traded with Pavlyuchenko of Tottenham.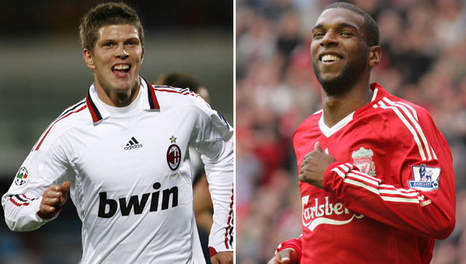 Subscribe

Netherlands World Cup Blog RSS Feed

Share
Comments

Sneijders goal !
http://www.youtube.com/watch?v=83BlM9_kabc&feature=youtube_gdata
Posted from
Singapore

Sneijder is an irritating little man, but one hell of a good midfielder, anyway, he's nowhere near as bad as Ballotelli.
Huntelaar, well Milan doesn't want to let him go.
V.d.Vaart deserves a regular place with a good club.
I was watching Europa League, Club Brugge won and advance, with our very own Ryan Donk was right back and had some phenominal moves, did well, and I could see the old Donk again. You know, the one that was said to become better than Stam.
Posted from
Netherlands

Glad to hear that about donk alex ,
foppe de haan ( the best dutch coach in my humble opinion ) , predicted with a great future for donk , but he let him down , hope he can shine again .
But i just wanna ask one question ,
do you think he really deserves a call to the oranje at the moment ?

Goose ? You dropping by Singapore Buddy ? Come n have a drink with a fellow Hagenaar
Posted from
Singapore

@Carlos: Pardon my ignorance but what is a Hagenaar? Is it related to a Huntelaar?

Finn – People who live in The Hague – or Den Haag (that famous foootball club ADO Den Haag) are known as "Hagenaars" hehehe – I only spent minimal time there in between my Fathers postings overseas.
Posted from
Singapore

My picks
Mexico, A1* Nigeria, B2 49 Nigeria,
England C1* Ghana D2 50 England
Argentina B1* Uruguay A2 51 Argentina
Germany, D1* USA, C2 52 Germany,
Holland E1* Paraguay F2 53 Holland
Brazil G1* Switzerland H2 54 Brazil
Italy, F1* Cameroon E2 55 Cameroon
Spain, H1* Ivory Coast G2 56 Ivory Coast
Holland 53 Brazil 54 57
Nigeria, 49 England 50 58
Argentina 51 Germany, 52 59
Cameroon 55 Ivory Coast 56 60
Holland 57 England 58 61
Argentina 59 Ivory Coast 60 62
Holland 61 Argentina 62 64
Holland Winners
Loosers final
England 61 Ivory Coast 62 63
Ivory Coast
Posted from
India

@carlos bro i am coming from kumbanadu.so i am a kumbanadan.
Posted from
India

Guys for your information.Camroon has improved a lot under le guen.they are clearly a hard team to beat.Orange has to be in their toes against them.We need to win first two matches.They look so solid now.Almost equal to cote de ivory.hope we will win against denmark and japan.Beacuse le guen is stubbon man.he is not afraid to make changes and he doesnt have favoritism.i belive in him and i am damn sure camroon will reach at least quarter final.they will kick italian A@#$% in the second round.
So i predict in our group
1-Orange
2-Camroon
3-Japan
4-Denmark.
Posted from
India

@Mohamed – how can you say that VdV shouldn't go to Arsenal because the midfield is already too full and then suggest Man city, a place where the midfield is so full de Jong can't even hold down a spot? I have to disagree with you and MO, I think Vaart could fit in very nicely at Arsenal. Like Ferenc said, Arshavin is a different position, Wilshere is still way to young and not ready for regular football, Vaart's better than Nasri, and Vaart and Fabregas could both play in the same team easily. Also, Fabregas gets injured periodically, (he's injured even now), Vaart would be even more important in those periods.
On top of all that, half of Arsenal is injured at the moment and they really need some more top quality players. I do completely agree with you that Ruud would be a great addition there though! I'm just not sure it will ever happen…

@caleb vaart could set with mancity,arsenal and liverpool.Coz he is a great player and has everything in his pocket.hugly talented son of god.But he should go to liverpool.there he will get more playing time than arsenal and Mancity.That is what orange need.Liverpool desperatly needs him.he will have a great time there with Torres and Gerrad.
Arsenel is bit crowded with fabergas,nasri,arshavin,wilkshare,Ramsey etc but he is second to none.But i dont think he will get enough playing time there.Ditto goes with mancity.hughes is unpredictable.he may get good playing time there but i feel some uncertainity there,coz they have cash and they could buy kakas,ronaldos etc.so i would suggest a no to vaart for mancity.
Posted from
India

@Tiju and Caleb: Have to agree with Caleb that VdV is clearly better than Nasri and can fill in for Fab too.
Now at Liverpool, not so sure he would get a lot of play time to be honest. The one thing they have (except Torres) is midfielders. He's not getting picked ahead of Gerrard, Benayoun, Kuyt, and the manager's favorite boy Lucas etc.
Same with Man City.
I think the Arse would be a good place for him to go

Plus I forgot to add the very small fact that Liverpool has no money to buy anyone anyway. And it KILLS ME!!!!

@caled , finn & tiju ,
i said ' man city ((if robinho will go to barca )) , vaart beside de jong , barry and ireland will be a perfect midfeild '
finn i think you're a big liverpool fan , and you know neither aquillani , benayoun nor lucas is better than vaart .
Arsenal this season play with 2 wingers (arshavin , walcott , ebouè , c.vela and nasri ) , 2 holding mids. ( denilson , song and diaby ), 1 playmaker ( cesc , wilshere ) and 1 central striker ( persie and eduardo ) ,
so where can vdv play ?!
I know he's better than nasri , but winger won't put the talented ( frensh ) guy on the bench .
I still remember when he benched overmars to play with emanuel petit !! That's why overmars went to barca !

Sorry caleb , i just have put 'd'
i'm using my cell phone web ,and the buttons are small ! cause i'm on travel in the train
sorry again my friend .

@finn ,
they can sell babel ( 5 millions , lucas 5 millions ) and buy vaart with ten millions . They really need him !

@mohmed if he (vaart) can convince the PROFESSOR,he doesnt have to look back.i think arsenal should buy hunter not vaart though vaart is much better than nasri and co.
Posted from
India

For our finn buddy
———-Torres-Gerrad———-
-Benayoun——-Vaart——–Kuyt——
—————Macherano? if he leaves who?——-
Aurelio———Skertl—Carragher—Johnson
—————–Reina—————–
Posted from
India

@Mohamed: Problem is that the Spanish Waiter is in love with Lucas so he doesn't go anywhere. Gerrard is the Pope of Liverpool. Benayoun has been Liverpool's best player this year. Kuyt is the fan favorite, so there really is one spot left depending on formation (assuming they play only with a fit Torres alone on top). VdV could get playing time, but with Benitez random nonsense rotation, he will spend many a day on the bench. Just look at Babel. He doesn't even get on the bench anymore.

At Liverpool, we need defenders, another topshelf striker, and not midfielders.

What about Vlaar for Liverpool, better than Kyrgiakos, lol. Skrtel on the bench, Vlaar-Carragher centrel pair.
Posted from
Netherlands

Oh, now that I really think about it, they have Agger as well, wouldn't really work out well for Vlaar, with Benitez fairly strange ways of managing.
Posted from
Netherlands

@ Mohamed, no I don't think Donk deserves a call-up, I'd say, he can use another 1 or 2 seasons. If he impresses not only in Belgian competition, cause that is even less of a competition than Eredivisie, but also European football. Than he deserves it.
Posted from
Netherlands

@Mohamed – Arsenal don't always play the same formation, and usually they don't play with 2 holding mids – besides, I don't think Diaby is really a holding midfielder. Also, Nasri isn't really a true winger, and Vela is actually a striker that is just put on the wings usually, so Vaart could easily take their place and play on the right side of midfield like he's done before. Or he could play in the midfield besides Fabregas and take Diaby's spot.

Fabregas has been on fire these days. I was really impressed by his performance at the Liverpool match. I heard that he got really mad at the team during half time break.
Posted from
Pakistan
Comments are closed