Twente scares the coach and the fans…
August 22nd, 2009 | by: Jan |

Comments(29)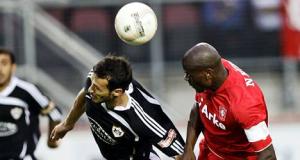 FC Twente is almost certain of the group stages in the Europa League. The current number 1 in the competition had to work harder for it than originally thought: 3-1.
The Azerbedjan club scored the first goal and put Twente on the backfoot early in the game. New signing Ruiz scored two goals to get the Tukkers back on topo and defender Douglas scored the third, late in the game.
Twente had a great start this seaons, with seven points out of 3 league games and two great matches against Sporting Lisbon. But may have been the disappointment of not reaching the CL again, that made Twente start so lacklustre against this tiny opponent. Steve McClaren: "I warned the players for this beforehand. If you don't play top, any team can hurt you. When they scored the 0-1, I could see that dramatic scenario unfold. But, we picked it up again. I can live with the final score. Let's hope this was a good lesson."
Subscribe

Netherlands World Cup Blog RSS Feed

Share
Comments

Sneijder will move to Inter.
Raf will move to Man United.
my picks

btw bayern played very very poorly yesterday away at mainz. van gaal under a lot of pressure already.
how long will he last?

sneijder – inter, vdv – arsenal
my picks
Posted from
Hungary

I'd like to see vdv in liverpool , but i highly doubt if liverpool can pay 10 millions £ for him.
bayern and arsenal are good options of course , though i dunno where he will play if he moves to arsenal , but i trust wenger . He doesn't bring high quality players to his team to put them on the bench . May be he will play as a farward beside persie and arshavin .
I think Sneijder will move from madrid in january , not now !

My 2 cents on the whole SNEIJDER should leave RM debacle.
Kaka was never primarily a playmaker at Milan. He was more of a second striker, behind pato, and in front of the main playmaker of the team Pirlo. Hes dynamic, fast-paced, good dribbler, determined, scores, shoots from distance, BUT doesn't dictate play, does not have sufficient vision, and does not position himself off the ball as well as a good playmaker would. Kaka is just great at being Kaka with the presence of Pirlo and also Seedorf to some extent.
Xabi Alonso is a team starter , yes! , but hes no playmaker. With Liverpool theres Gerrard who does most of the playmaker's work. He's role , imo, is more to support gerrard offensively in midfield. Same goes for Xabi in spain, there is Xavi and iniesta who do all the playmaker's work and he just supports them.
Xabi is good in the sense that he is a rather complete midfielder. Good physique, good in attack, good in defense, and displays intelligence on the field. But he has never been a team's orchestrator, tempo disctator or basically a playmaker!!!!
Granero is a playmaker, and Sneijder's main threat. But as i said earlier, he is young and inexperienced. i doubt he'll make a very "lasting" impact.
And then theres Guti, also a playmaker and also a threat to Sneijder. But Guti is getting older and older, and im quite sure he will not be able to play a starting playmaker role for the squad, game in game out..
Sneijder's rebuttal on behalf of RM management is very understandable in these circumstances. They want to make money out of him. fine. but if Wes doesnt want to leave, and will not leave, the transfer window deadline will pass, and then automatically i believe they'll have no choice but to re-instate him in the squad. He's simply a better quality playmaker then Guti and Granero, no matter how they put it. Slowly they will be obliged to recognize this fact and include him more in first-team plans, and eventually in key-roles.
this is my opinion. I have no worries about Sneijder's future or the important contribution he is expected to give in the WC. I am definitely for the inclusion of Seedorf, I've had nothing but praise for him in the last few years, but not at the expense of or Key-Player Sneijder.
Here's how i see RM with Sneijder:
——–Lassana Diarra—Xabi Alonso——-
–C. Ronaldo——–Kaka——–Sneijder–
—————–Benzema————–——
Posted from
Norway

VDV won't move to Bayern because of his ties to Hamburg, but it is an option for Sneijder. I think Arsenal might be better suited for VDV than Liverpool. There may not be a spot open for him unless he wants to play on the left wing opposite of Kuijt…
Also, Fabergas may have picked up a small injury yesterday. If it turns out to be long term, I'd imagine Wenger would sign someone quickly.

sneijder should move to manchester united and van der vaart should go to arsenal.
Posted from
Switzerland

Sneijder should move to MU. He is a perfect replacement for. Scholes –who is over 30 years old now.
I am not sure about VDV. There's no place for him at Arsenal or at Liverpool. Wenger is looking for a defensive midfielder. While Benitez has found a replacement for Xabi Alonso.
Posted from
Canada

i don't want that arsenal just buy vdv to replace cesc and bench him after cesc's return… but for the long term he would fit to arsenal philosophy especially knowing that one day cesc will return to the club where he should be…
Posted from
Hungary

My picks:
Wes to Inter
Raf to Manchester Ud
Posted from
United States

VdV would play instead of denilson.
Posted from
United States

@Marc
vdv cannot play defensive mid
Posted from
United States

@MO
But they play a 4-3-3 with song/diaby behind cesc and denilson/VdV?. And if you have watched them play the midfielders move around a lot so the CM's basically play like attcking mids. Also this is how VdV initially learned how to play with Ajax. They always played a 4-3-3 with 1 DM behind 2 CM's so I think he can easily play in that position.
Posted from
United States

Also watching hamburg-wolfsburg and elia looks very impressive it's 2-0 hamburg 15 minutes in and he scored.
Posted from
United States

@Marc
i did not know the play 4-3-3
Posted from
United States

yees and i am also very pleased by mathijsen's performance. really good dfender…

It's 4-2 Hamburg and Castelen and Elia scored. Elia was incredible and Castelen looked very good when he came on. And Mathijsen was also very solid. Elia looks so good, getting by his man at ease. He is definitely national team caliber.
Posted from
United States

Agree with Marc. Elia looked really sharp. He is far superior to Babel. I really hope VM sees that soon. Good comeback for Castelen and nice to see him score. If Elia continues at that pace, it won't be long before he gets bought.
Posted from
United States

Mathijsen is a good defender, I said that before. he can make a good partnership, but he's not world class, something we tend to expect from every player. BTW, I was on introduction week for University, doing things and partying for 5 days in a row, so I've missed quite something. I heard Glen Loovens made oranje pre-selection, good choice for me. And indeed, Elia and Castelen played well, as did Afellay, right now Babel seems to be slowly losing the battle for his oranje place to Elia.
I'll take a closer look at our main defenders at the moment for you guys, to put things in perspective after days of hectic discussions and slamming of our defence.
Mathijsen:Consistent, reliable, strong, yet slips up every now and then. Vulnarable against quicker opponents. Still, he deserves his spot.
Boulahrouz:Sadly injured before the start of the season, did reasonably at the end of last season, will be fit within weeks. Still hope he returns to form, if he does, he's a no-brainer choice for me, otherwise doubtful and replacable.
Heitinga:Mostly reliable defender, not impressive as RB(yet), but is in potential a better CB. Good enough for oranje.
V.d.Wiel: Best potential RB, now, needs experience but looks to be the future.
Marcellis:Has refound his form a bit, lots of potential, yet still replacable.
Ron Stam:What's in a name, right
Overlooked by V.Marwijk but always consistent for Twente, good defending and threatening when coming forward. Good option, but seems like he has reached his top so v.d.Wiel might be a better long-term option.
Braafheid:Still not playing too much for Munchen, but with the help of V.Gaal he will improve tactically and I have confidence that he will grow to be a excellent defender for us.
Gio:Still one of the best left wing backs attackingly, but getting more and more vulnarable defensively, can become a weak spot in the wc.
Bouma: Ever reliable and strong defender, hardly puts a foot wrong, u can line him up without a doubt, that is if he's fit. Still suffering from the long term ankle injury, hope to see him get fit before the WC. Valuable asset with his strenght, experience and calm.
Loovens:Promising talent at Feyenoord but blossomed at Cardiff, struggled at first with Celtic but has found his place and doing well on a weekly basis, good choice for oranje.
Vlaar:Performed well now for 4 matches, hope remains he'll stay fit and continue to develop into the great defender he looked to become at age 20. But if he does, it's best he does it slowly, without too much pressure, so unlikely to be thrown into oranje, if it happens, it'll be in the second half of the competition.
Maduro:Did ever better as CB for Valencia last season, yet they bought some new defenders and his starting position isn't as firm anymore. Will get his chances sooner or later, either on midfield or CB, and needs to grab them. Cause he still needs more playing time to develope into a trustworthy CB for oranje. So for me, should he be in, no, not yet.
Pieters:Very promising talent, but has had a rough time, personally I think he has improved in the season this far. He looks as he could still be an option in the longer run.
Zuiverloon:Impressed early in the PL season, but now with his team in championship. He needs to re-establish himself and start his way back up again if he wants to remain an option for oranje.
Drenthe:Written of by many including me, but seems to have found new joy, spirit, enthusiasm and has looked surpsisingly decent as leftback. Still the season has only just begun, so to put him in already is ludacris. Let's wait and see how things develop en if he can establish himself and play well for a whole season.
Donk:He has refound himself a bit with Club Brugge, but has not yet impressed to much. Will need to improve this season to keep sight of his Dutch defensive competitors.
So based on these observations and facts, i conclude that if all fit. Right now, I would choose these 8 defenders.
Braafheid-Mathijsen-Loovens-Heitinga
Bouma-Marcellis-Boulahrouz-V.d.Wiel
So other options that I take seriously on a shorter term, but who, for me, still have to prove something, or aren't consistent or good enough yet are
Drenthe, Vlaar, Maduro, R.Stam, Pieters, Donk and Zuiverloon.
For the longer run. Look at Daley Blind, Daryll Janmaat, Patrick V.Aanholt, Jeffrey Bruma and Nicky Kuiper.
Posted from
Netherlands

If I had my choice, Wes and Vaart would come here to play for Toronto FC!!!! LOL!!!!
Anyway, Sneijder at ManScum and Vaart and 'Pool would be great!

best cb right now is
mathijsen
brouwers
marcellis
vlaar
loovens(maybe, never seen him play)
Posted from
United States

@Alex
Thats an interesting comment. Except in my defender selection I would take out Marcellis and put in Drenthe as it seems he will be the LB for real madrid. And move Bouma to CB.
Posted from
United States

It's from goal.com so I don't know if we can trust this but it would be nice if Robben move to MU
http://goal.com/en/news/12/spain/2009/08/23/1456874/manchester-united-re-ignite-interest-in-arjen-robben-report
Posted from
United States

The ManU interest doesnt surprise me. They almost signed him from PSV but Robben decided to move to Chelsea at the latest. With CR gone, they need someone like him. And Sneijder.
And Huntelaar, Ruud, Drenthe and Raf!
Just kiddin

epl is poison for glass players like robben and wesley
Posted from
United States
Comments are closed