This is the best Barca ever…
May 26th, 2009 | by: Jan |

Comments(3)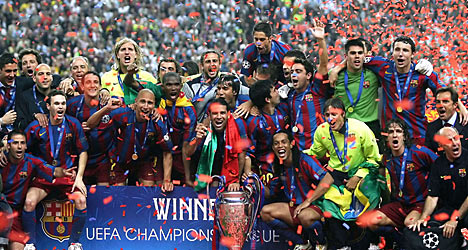 If Pep Guardiola would be the dj in Rome this Wednesday, he'd play Coldplay's Viva La Vida in the stadium. "I tend to rule the world and feel the fear in the enemy's eyes (…)", sings the band. If Sir Alex would determine the music, it would be all Bill Haley and Buddy Holly.
Football, art, music, literature, poetry, film…it all sits together in Guardiola's mind. Born 38 years back in Santpedor and nicknamed The Myth. His Barca plays the best football ever played by the Bluegrana's. The metaphors kept rollin'… Symphonic, masterpieces, poetry in motion, etc etc.
During the whole season, Guardiola lets his players listen to Coldplay in the dressing room. Seize the day, enjoy life, because later – according to composer Chris Martin – "you'll discover how your castles are built on pillars of salt and sand…"
Viva La Vida. Symbol of the joyful vive in Camp Nou. Rijkaard loved Coldplay too and even attended their gig in Barcelona. Guardiola always emphasizes how his work is based on Rijkaard's foundations. "The wingers and strikers start the pressure on the opponent, we push up from the back and keep the pitch tight. That's all the stuff I took over from Frank."
Louis van Gaal, the headstrong coach who worked with player Guardiola in his final years (he left for Italy), taught him tactical discipline. Johan Cruyff instilled the football romanticus in Guardiola: the quest for breath taking football.
Cruyff: "We were similar on the pitch. There's only one reason why I always played pass-and-move football and developed my technical skills, same as Pep, because I was physically not strong enough. We both did well in teams that wanted to have the ball. Without the ball, both Pep and myself came up short. Players like us – and Messi and many other vulnerable players – need those skills to survive and from that a special brand of football was born."
Both coaches are courageous, although JC did adapt his team whenever he had to play Real Madrid. Guardiola takes it a tad further: his team will never ever adapt to any opponent. Whether's it's Real Madrid or Manchester United.
And whether you are a player of the former Dream Team, a Barcelona-based Dutch journo or the experienced coach of Man United, every one can see this Barca is the strongest ever. In 17 games, Barca scored four goals or more. Barca is faster, more varied and more lethal than ever. And compared to JC's Dream Team, defensively stronger.
Guardiola gives the credits to his players. "Every coach would do well with this lot," he says. But the players are adamant: "An A+ for our coach!".
Guardiola is mainly more modern than Cruyff. He does use his intuition, as he did as a players (a combination of Xavi and Iniesta) but he also is methodical. Cruyff only trusted Tonny Bruins Slot's analysis, Guardiola these days deploys video-analysis like Van Gaal does at AZ.
He even lets his players study on set pieces and corner kicks, something Barca never did. And sometimes he even surprises his own players. The 1-2 against Madrid for instance: Xavi took a corner and put five fingers up. No one bar Pique and Puyol knew the meaning. The first prepared a block and Puyol was free to score his goal.
Subscribe

Netherlands World Cup Blog RSS Feed

Share
Comments

Who will be Barcelona's left and right back?
Posted from
Indonesia

Something similar was said before the 1994 final. I can see Utd winning this with some ease.
Posted from
United Kingdom

I had to listen to "Viva la Vida" while reading this article!!! They go together very well! I am rooting for no one in this game. Already disappointed with Chelsea being cheated out by Tom Ovrebo and UEFA conspiracy. But oh well, although almost everyone wants Barca to win the Champions League…I know in my heart, that Man U will find a way to win. After all, all John Terry had to do last year was score his penalty kick. Van der Sar was beaten but the ball wouldn't go in!!! So I won't count Man U out and the ever so wise Sir Alex…but if Barca wins it, they are without a doubt the club of the 2008-2009 season.
Posted from
United States
Comments are closed