Sabia Boulahrouz: our dream is to have kids…
October 7th, 2009 | by: Jan |

Comments(5)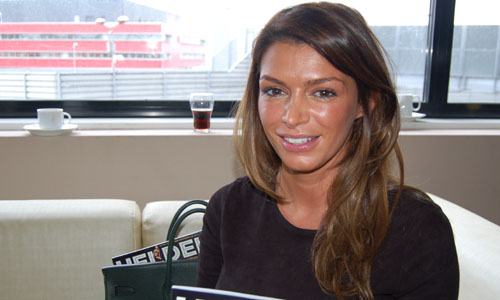 Her miscarriage was a much debated topic at the EC 2008. The whole nation mourned the death of Khalid and Sabia Boulahrouz' daughter. And that particular drama may also have cost Oranje the European title. Sabia Boulahrouz wasn't able to notice any of that. "One moment, you are with the lads and the EC and you hope they win it. And the next moment your head is totally overwhelmed and focused on somehing totally different."
Many Oranje players stayed that night in the hospital to support Khalid. Sabia: "I didn't even know. Ed van der Sar, Robin, Ruud…they were all there and mourned with us. Khalid told me later. I was not aware of anything at that time, I was totally numb."
Sabia had her three months old daughter in her arms, alive, for a couple of moments. She now tells her story. Hoping to be able to help other people who went through the same experience. The German born speaks slowly and deliberately and with her Bambi brown eyes, she radiates charm and a passion for life again.
"Our loss was central in our life for quite some time. I never knew whether we would be able to live normal again or even if we'd try to concieve again. But we're doing well again and we can look towards our future. Khalid was key in that process. He was so strong, strong enough for the both of us. I owe him the world."
The Oranje international and Stuttgart defender kept a cool head and set the pace in the couple's processing time of their loss. "I'm glad we did it like that. We spent so much time talking. Khalid is a very proud man and it seems as if he is the silent type. And he is. He never spoke a lot or shared his feelings, but he learned to express himself and he talks now. A lot."
There was a national debate after the EC…. Was it wise for Khalid to play the Russia game… Sabia: "It's hard to say, looking back. At that time, he felt he needed to do it. He said he needed it to regain himself. I supported that. I know him well, and if he tells me he can do it, he can. I am happy that Van Basten gave his confidence to him, although it didn't end well. Holland lost and Khalid got injured and was taken off. Life is like that. We'll never know what happened after that. I did feel, at times, that I – or we – spoiled the party. That was another thing we needed to get over…."
The couple emerged from their ordeal much stronger. "I'm Turkish but raised in Germany, so I speak Turkish and German. Khalid speaks Dutch and his mother speaks Morrocan… His mum and I both attended Dutch lessons so now we can speak together. We couldn't before."
"I am so proud of my husband and we both share the dream of raising a family. His career is going well, I feel strong again and let's say it this way…we're trying again…."
Subscribe

Netherlands World Cup Blog RSS Feed

Share
Comments

Best of wishes to the Boulahrouz family. I actually felt very sorry for them when I heard of their tragic news, and was touched by how the whole Dutch team came together like a family to support them.
I think it's very useless to debate whether they really cost us an Euro title. Pointing fingers after an incident has already happened does no one good, only causes maximum damage to everyone.
It takes great courage to go through that and still have the strength to support your wife and keep things going. And also dealing with a goalkeeper called Jens Lehmann who throws your cap away during a winter Europa League game for no particular reason.
Once again, best of wishes.
Posted from
China

@sabia…yourhubby plays with his heart..offcourse he will be rewarded…
i dont think that incident affected our lads.i think the location chage cost us a lot,i mean change from Berne to basle cost us deeply..isnt it?
Posted from
India

Well, even if this drama took the steam out of our boys (and I think it's likely: psychologically, we were playing like champs and on cloud 9 and then everyone was thrown back to the Earth due to this enormous sad event), it really doesn't matter. It happened. We lost. Big deal. It's only a game.
Losing a kid is the one of the worst nightmares and that's what counts.
All the rest is just Elephant talk.
Or, as Joey in Friends said: a moo point.
Chandler: Eh…it's actually a moot point.
Joey: Nah! It's a moo point. It's like when you aks a cow about this and the cow will say: moooooooo……

hah Jan i know that episode
moo point "it is a cows opinion, it doesn' mean anything"

Yeah, what a classic series is it, eh? Joey for President!
Comments are closed