Problem-stricken Oranje pursueing records
June 2nd, 2009 | by: Jan |

Comments(11)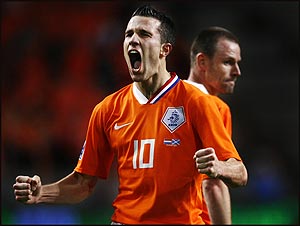 Only a short while back Oranje had too many great players for the four forward positions. Bert van Marwijk picked his starters on the basis of little details. Van der Vaart, Afellay and Sneijder were told to take a seat next to the coach on the bench.
It's only two months later and the team manager can be happy that he has at least on fit player for the forward spots when Oranje prepares for another international week.
Dirk Kuyt is the only player who did what he has been doing the whole season: be fit and stay in glorious form. The rest all have issues: some private matters, others football-related, and some have both.
Ibby Afellay already declared himself unfit to join Oranje this week. This week, Wesley Sneijder informed his manager at Oranje that he won't be ready for Iceland and Norway. The Madrid midfielder is still recovering from a hamstring injury.
Robin van Persie's state will have to be seen, what with his operation in Paris on his wisdom teeth.
Right after this weekend, the Oranje internationals on Real Madrid's payroll will hear whether they're part of Madrid's future or whether they can start calling a removal company. As off Monday, Florentino Perez is the new Boss and he definitely doesn't want to hold on to all Dutch players. In Liverpool, Ryan Babel is a question mark since he again wasn't able to secure a starting position.
Bert van Marwijk is on top of things, but doesn't want to worry. "We know by now that there's always players smiling and there's players not smiling when they enter the Players' hotel."
"Oranje or their club, they're different worlds and players need to leave their club suit at their club. Till now, Oranje has a rejuvenating effect on them. See Huntelaar in Tunisia. The lads from England and Germany came in to the sessions last week and I could tell that they realize it's not yet vacation time."
Sneijder's absence is not a surprise for Van Marwijk. "I saw the game inwhich he copped that injury and I could tell it was serious. It's now five or six weeks down the road and he still hasn't trained properly with the group. The only time he tried he got a reaction in his hamstring. We took the decision to drop him on Thursday, jointly. It's a setback, sure. We've all seen what he can do against Macedonia. He's the ideal man to translate my wishes onto the pitch."
Van Marwijk's selection has one debutant in Eljero Elia. The Twente winger showed the Oranje staff what most fans already knew. "Elia is a fresh player, who deserves his selection. I probably would have picked him even if all the rest was available. I would have taken 23 players along instead of 22."
Last weekend, Van Marwijk also checked out Hedwiges Maduro at Valencia, but since Oranje's midfield doesn't have any personnel issues, Van Marwijk decided not to select him.
Oranje can get two new records against Iceland on June 6. Oranje hasn't lost against Iceland in nine games. Cyprus is the other country that couldn't get a point against Holland in nine games. If Oranje wins, a new record is there. Another record looming is the fact that Holland can become the only nation to win eight away games on the trot in a WC qualification. Five years ago, Oranje wasn't able to win for the last time. Macedonia kept Oranje in 2004 at 2-2.
Subscribe

Netherlands World Cup Blog RSS Feed

Share
Comments are closed