Patrick Kluivert: I'm not retired yet!
June 19th, 2009 | by: Jan |

Comments(14)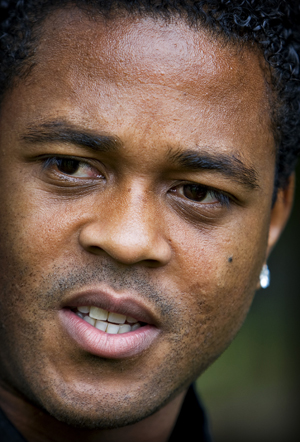 Patrick Kluivert hopes to get his coaching diploma at the end of his practicum at PSV. But that doesn't mean he's retired from football as a player.
Weren't you supposed to assist Frank de Boer at Ajax A1?
Kluivert: "I did make that deal with Danny Blind, to do a practicum for three months at the Ajax A1, but Frank de Boer already has an assistant and my coordinator at the KNVB doesn't like me to be the third man. There's more space for me at PSV, so I decided to stay at PSV."
Which team in Eindhoven?
"Young PSV. I'll work together with Anton Janssen there. It's a period of three months and then we'll look at it again. Fred Rutten will have to make decisions by then, I suppose. If he likes my work and wants me to stay, I'd love to work at PSV."
You recently played 90 minutes with Old Barcelona. Did you actually retire as a player?
"No, I don't want to comment on that now. I'll be 33 years in two weeks. I think I could still play and I feel very fit. No more physical problems and all that. We'll see. I've got a lot of energy to work for PSV after my year with Van Gaal. I want to know if I have coaching in me."
Subscribe

Netherlands World Cup Blog RSS Feed

Share
Comments

Ah Kluivert, what happened to you? I used to be a huge fan, but your last 5 years have been a steady decline downwards… it's a real shame.
Posted from
Canada

All i can say bout Kluivert is: what a waste…
Posted from
Netherlands

How true. He could have been one of the best ever. Sad, sad, sad.

one of the biggest waste of dutch football. he could have become the best player of the world but… i used to be a big fan as well and still love patrick kluivert. ajax,oranje,barca – my 3 fav team. i cannot be objective with him. clarence,edgar,patrick were my 3 heros in the 90s and early 2000s.

His best games were in partnership with Bergkamp. When Ruud took his place in the Dutch team it was downhill for him. But I don't think we know the full story yet ? Strangely he and Ruud were born on the same DAY.
Posted from
Singapore

@goose man to harsh on cluivert still i remmeber Jan's post on cluivert"unremarkable farewell for a remarkable striker"
Posted from
India

Kluivert had 2 major problems ;
1. he never had to work hard cause he was so gifted (unlike vNistelrooij f.i.), he never learned how to 'fight' back when things got difficult on nad off the pitch
2. Kluivert is too sensitive, he never really grew up and he lacked the strenght to be a real professional
if Kluivert had the mental strenght he could have been one of the greatest strikers ever
Posted from
Netherlands

Well said Goose… Right on the money.

interesting parallel stories: ruud and patrick were born on the same day. when patrick was famous,one of the top strikers of the world,ruud was just a talented goalscorer (between 1994-2000). patrick's decline started between 2000 and 2002. ruud became a world class in this period. after 2002 patrick has become the shadow of himself and ruud had a very different destiny: between 2002 and 2007 he was the best striker of the world,especially in his glorious manchester years (2002-2005,although his last year was quite bad). his first madrid year was brilliant,his second was all right,but after 2005 other strikers became better than him: eto'o,drogba,ibrahimovic. patrick has gradually disappeared. he was too gifted,had lots of injury and loved too much the night life in amsterdam,barcelona etc. i'm sure that ruud will be a good striker after his long injury (would be nice to see him in south africa) and sure as well that patrick will never return to play. so so strange that such a talented player was so early finished – maybe someone else should have scored the 1-0 in the cl final against milan in 1995… i really like and respect ruud but patrick was much more gifted.

Oh man by only thinking of Patrick I get mad. He was such a talented player but he chose to have fun instead of focusing in his career.
I'd also love to have Ruud in South Africa. If he is playing well Kuyt or Huntelaar will have to be benched.
Kluivert was a great goalscorer but he was also very good with his assists.

Ruud and Kluivert had something in common: they always appeared in big games. It's a shame they could never really play together, when Ruud was fit Kluivert was injured and the other way around but I actually think they could've made a good partnership.

————-Edwin—————-
–Reizeiger–Stam-F.deBoer–Numan-
–R.deBoer–Davids-Cocu-Overmars-
——-Kluivert–Nistelrooy—
WHAT A TEAM!!!!!!

Miguel,
Swap Bergkamp for RVN and Jonk for Cocu and you just listed the '98 team. I think that Oranje was better with Bergkamp and Jonk (though giving Cocu his due, he subbed as a striker for Kluivert in the South Korea match and for Numan as LB in the Brazil match).
Andrew
Posted from
United States

Miguel,
How the hell can you leave The Iceman off that list??? After JC-14, Bergkamp is possibly the greatest Oranje of all time! At least he is in the debate with MVB, Gullit, Rijkaard, Koeman and Neeskens.
Comments are closed