Overview 2008: Mark "Stinkstiefel" van Bommel is back
December 29th, 2008 | by: Jan |

Comments(10)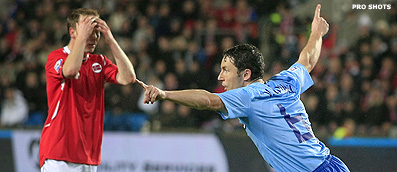 His winners' mentality makes Mark van Bommel loved by his team mates and fans and hated by his opponents. 2008 was probably the most awkward year for the 31 year old midfielder. Highs and lows, close together.
The love-hate relationship of Van Bommel and football came to the surface in the beginning of 2008, when Bild's readers voted him the biggest arsehole (Stinkstiefel or most hated player) of the Bundesliga. Internally at his club Bayern Munich, however, it seemed they were erecting a statue for the former PSV captain. Bombarded as the new leader and skipper after Kahn hung up his gloves.
But there was also criticism. Van Bommel collected too many cards and made an obscene gesture to a ref. "I need to lose that," the midfielder acknowledged who called upon a psychologist. "It's my own fault. I am working hard to change my attitude."
Coach Klinsmann relegated Van Bommel to the bench to make him ponder his sins. And in that period, he made his comeback for Oranje. After Marco van Basten resigned, he made himself available again and with his father in law Van Marwijk in charge, Van Bommel was back in Orange.
Van Bommel experienced a glorious comeback with an assist against Iceland (2-0) and the only goal against Norway. Three days later, he made his return in the first eleven in Munich and hasn't looked back since. All ends well for Stinkstiefel, who's in the middle of negotiations with the Bavarians for a new contract.
Subscribe

Netherlands World Cup Blog RSS Feed

Share
Comments

you gotta give it to these germans .. Stinkstiefel … what a great word ..here in Holland we use quite a lot of german words in our football ..
we say; "Schwalbe" for "dive" sometimes "Anslusstreffer" and "Herbtmeister"
btw ; trainer Ron Jans from Fc Groningen has a special NewYears great for us all, presented in yesterdays game between Heerenveen en Groningen… haha
http://nl.youtube.com/watch?v=mrLjmQltZbM
Posted from
Netherlands

My school German is not what it used to be (which wasn't that great to begin with), but that one even I can translate and it borders poetry.
It is a bit like listening to an Irishman go on a swearing rant. Anyone else try doing it, it is foul language that you rather want to be without. Get a well lit up Irishman going and you will be laughing your head off.

@Goose: Evert ten Napel uses the word "Fopduik" (that would be "Fakedive" in English, I assume) as a Dutch equavalent for the German word "Schwalbe". I like Ten Napel's word much better then the original German word, even if German is the native tongue of my father… and, in all honesty, those commentators should avoid german loanwords, since most of the time their pronunciation of the German language is crap.
Posted from
Netherlands

@lowiesje ; cant agree mate .. i person. hate "fopduik" it sounds like something done in the circus by a clown .. i like "schwalbe" it sounds nice and dirty
what i dont like is when 'Anschlusstreffer' becomes "aansluitingstreffer"
Posted from
Netherlands

What the hell are ya'll talking about??
Posted from
United States

Apparently you're only allowed to bring one player whose already played in Europe into a Champions Leauge squad, so Real Madrid will have to choose between Diarra and Huntelaar.
Posted from
Canada

van Bommel is a very tough player who has talent and was missed by Oranje in Euro 2008. For sure Nigel de Jong is getting better and better but Engelaar is not at Mark´s level so I am thinking of two holding midfielders with Mark and de Jong for 2010 although Schaars can be a good candidate too.
I think that it is time that van Bommel can become the same leader for Oranje as he is in Bayern and was at PSV. Oranje lacks a leader now and I think that one of the very few players who can do that at the moment is Mark van Bommel, if not he is in risk to lose his position because I have seen Stijn Schaars this year and this guys deserve to be in Oranje and when he gest the chance he might grab but I am positive that Mark´s comeback have helped our great squad.

The way the CL/Uefa rule is written is ambiguous as it states "If one player has played in the UEFA cup….etc etc." So the emphasis is on the word ONE. Thats the legal dilemma. The rule should have said "If A player has played….." Anyway lets see who will be listed.
Posted from
Singapore

I must confess: if I was in Germany, I'd be one of Bild readers who voted MvB as the "Stinkstiefel". I just can't put up with the guy. He's unbearable. A kick in the ass.
But, as said here, he's also a wonderful player. If Van Basten hadn't been so stubborn, Mark could be at Euro 2008, and would help Engelaar a lot. Anyway, he'll help a lot his father-in-law at the team. True: I got to bear up him.

I would like to see van Bommel-Schaars at the center of our midfield for at least a game and see how they perform together but if could be an interesting parnership.
Comments are closed