Overview 2008: Mark "Stinkstiefel" van Bommel is back
December 29th, 2008 | by: Jan |

Comments(10)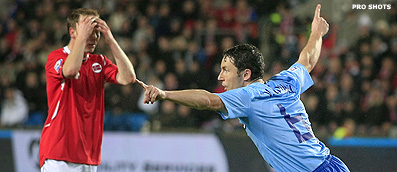 His winners' mentality makes Mark van Bommel loved by his team mates and fans and hated by his opponents. 2008 was probably the most awkward year for the 31 year old midfielder. Highs and lows, close together.
The love-hate relationship of Van Bommel and football came to the surface in the beginning of 2008, when Bild's readers voted him the biggest arsehole (Stinkstiefel or most hated player) of the Bundesliga. Internally at his club Bayern Munich, however, it seemed they were erecting a statue for the former PSV captain. Bombarded as the new leader and skipper after Kahn hung up his gloves.
But there was also criticism. Van Bommel collected too many cards and made an obscene gesture to a ref. "I need to lose that," the midfielder acknowledged who called upon a psychologist. "It's my own fault. I am working hard to change my attitude."
Coach Klinsmann relegated Van Bommel to the bench to make him ponder his sins. And in that period, he made his comeback for Oranje. After Marco van Basten resigned, he made himself available again and with his father in law Van Marwijk in charge, Van Bommel was back in Orange.
Van Bommel experienced a glorious comeback with an assist against Iceland (2-0) and the only goal against Norway. Three days later, he made his return in the first eleven in Munich and hasn't looked back since. All ends well for Stinkstiefel, who's in the middle of negotiations with the Bavarians for a new contract.
Subscribe

Netherlands World Cup Blog RSS Feed

Share
Comments are closed