Oranje 1974: Johan Neeskens
August 18th, 2009 | by: Jan |

Comments(19)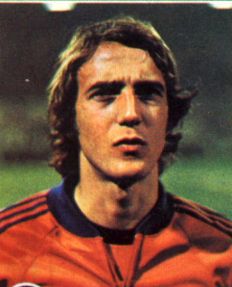 Dutch football brought forward many great talents. The best of them all – and debatable: the world – was Johan Cruyff. The Einstein of the pitch. Willem van Hanegem was arguable the second best player ever to wear the Orange jersey, but the list of great names is endless: Piet Keizer, Coen Moulijn, Marco van Basten, Frank Rijkaard, Dennis Bergkamp, Frank de Boer… Where does it stop?
But by far one of Holland's most popular players ever was most certainly Johan Neeskens. The girls loved him ( and Johnny Rep and Ruud Krol ) for his looks, while all the lads loved Johan for his passion. He never gave up. Always fighting, tackling, running, diving and running. Great mentality, great lungs and good legs. He'd prevent a scoring opportunity in his own box only to score a driving volley or header minutes later in the opponent's box.
Johan was a martyr. Always blood on the shirt, always risking life and limbs and never longer on the ground then necessary. And certainly never asking for cards. Johan could give out knocks but he also knew how to concede them.
If Oranje 1974 was a rockband, Johan Cruyff was most certainly a Beatle, Willem van Hanegem was Van Morrison, Robbie Rensenbrink was Jimi Hendrix and Ruud Krol was Mr Sinatra himself. Johan Neeskens was Marc Bolan. Or Jeff Buckley. Passionate, angelically handsome and above all: all heart.
Born in Heemstede (close to Haarlem) Johan was attracked to baseball. He made it into the Dutch youth nine when young, but when he was 16 year old he made his debut in the first team of local amateur club SC Heemstede. When Ajax player (and later manager) Arie van Eijden went to play for Heemstede in the autumn of his career, he immediately tipped Ajax off about this introverted young lad.
Neeskens made the move to Ajax when 17 years old and quickly made it into the team. First as right back but the dynamic and all round player was swiftly moved to center midfield to cover for Ajax' leader Johan Cruyff. The two would strike a partnership that would soon result in lots of silverware.

Nees was that rare kind of player who could act as dynamic holding midfielder, taking the opponent's playmaker out of the game (his clashes with buddy Willem van Hanegem were heroic) while at the same time playing as fourth attacker in a role we'd now call the shadow striker. The midfielder would also present himself as a deadly penalty specialist, as demonstrated at the 1974 WC.
His iconic fights with the Brazilians in the semi-finals (2-0), in which the millions of Dutch fans saw his white jersey smeared with his blood but still leading in the battle resulted in his hero status among the Dutch fans, whether they backed Feyenoord, PSV or Ajax.
Nees won three European Cups with Ajax before he followed Johan Cruyff and Rinus Michels to Barcelona, where he quickly was awarded to nicknames: El Toro and Johan Segon (Johan The Second). Despite the fact that he didn't win much with Barca, Nees became immensely popular amongst the fans thanks to his fighting spirit. His run and challenges were continuously greeted with a thankful "Ole!" from the stands, something the socios would repeat whenever Nees visited his old club after he retired.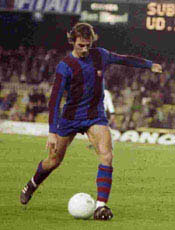 Brazilian star Pele chose Johan Neeskens in his all time favorite football team while Inter Milan captain Sandro Mazzola once raved about Nees in an interview. Neeskens was only 20 years old when the Italian grandmaster said these words: "The player that has impressed me most recently is Johan Neeskens. He's not a football player but an artist. He is so much more talented than me. And he's only 20 years old, what a bright future that lad has. He is a force on it's own."
Nees was the ideal man to have mark the playmaker of the opponent. And he played many heroic duels against the likes of Mazzola, Eusebio, Van der Kuylen and Van Hanegem. The latter was a good friend but there's a famous photo of an Ajax-Feyenoord with a screaming Neeskens lying on the grass and a laconic Willem van Hanegem walking away after another huge tackle.
The weird thing is though, that in the WC74 finals, Neeskens wasn't the man to pick up Wolfgang Overath. Instead, Michels had placed him opposite Rainer Bonhof.
Many people said after the finals that Bonhof had a lot of time to pinpoint his cross to Gerd Muller, for him to score the winning goal. Arie Haan had to come across and was late, but Neeskens was nowhere to be seen.
At Barca, Nees wins the Copa del Rey in 1978 and is voted best player in Spain. He wins the Europa Cup II in 1979. After that, Johan Segon decided to leave Spain. And Europe. The newly assembled New York Cosmos – of Pele and Beckenbauer fame – signs the Oranje midfielder. Johan would stay there for five years.
This is where the Dutch fans loose contact. There's not a lot of coverage of the American competition and most Dutch fans aren't really interested. When stories came to the Dutch media that Nees had lost the plot and spent more time in clubs, drinking, gambling and even – these are rumors – using drugs they felt their favorite son has slipped away. He would go missing in his last season in New York for quite some time. His old friends couldn't reach him and the rumors about his financial and personal problems become stronger.
By then, Nees hadn't played for Oranje for 2,5 years.
Lore has it, that then time Oranje team manager Kees Rijvers decides to check Neeskens out. He flies to New York to ask the midfielder to come and play for Oranje again. I'm not sure, but I think it's for the 1982 WC qualifacation game against Belgium that Rijvers wants to use Nees. Rijvers was planning to use the younger talents a bit more but needed some class and experience.
Rijvers took Neeskens in, flew him to Holland and took care of him at his home, getting him fighting fit for the game.
I'm not sure – again – but the game must have been in 1981 in De Kuip. I was there, but other than being excited about seeing Nees play, I can't remember much. The only thing I do remember is that it was a half volley by Neeskens that led to Oranje's first goal (by Cees van Kooten?). The goalie blocked the shot and Van Kooten scored from the ensuing corner kick. Nees had to leave the game with an injury but mission accomplished. Oranje would win 3-0 but would lose the away game to France, 2-0. No WC for Oranje…
FC Groningen signs the bull to add some experience to their young team but he'd only play 7 games due to injuries. He'd move to the USA again to play in Minnesota and Ford Lauderdale before he winds down his career in Switzerland, where he lived with his new wife. After his active playing career, he turns to coaching Switzerland. His successes there result in his name being mentioned as coach at German Bundesliga clubs but it's smart operator Guus Hiddink who decides to ask Nees to assist him for the 1996 European Cup campaign. Neeskens remains assistant coach under Hiddink through to 1998. When Hiddink moves to Real Madrid, he advises the KNVB to pick Rijkaard and Neeskens as the coaches for the EC2000.
After Rijkaard quits the job post-EC, Neeskens accepts the job as head coach for NEC Nijmegen, where he'd qualify for European football. After that, Neeskens follows Hiddink Down Under and becomes hugely popular in Australia by singing the national anthem passionately at official games.

After his Australia World Cup stint with Gus, Johan joins Rijkaard at his beloved Barca, where took the place of Henk ten Cate when he went on to coach Ajax. After Rijkaard and Neeskens leave Barcelona, he becomes the team manager of Nederland B. When that experiment ended, Nees joined Rijkaard again at Galatasaray, where he's currently assistant coach.
Here's the goal we love so well… Van Hanegem to Nees, Nees to Cruyff, Cruyff to Neeskens…
And this one is pretty funny… Good that Nees never wanted to be an actor…
Subscribe

Netherlands World Cup Blog RSS Feed

Share
Comments

Hometown hero! He actually played at RCH (where my brother played) first, right across the street from my own football club. Undoubtedly one of the greats!
Posted from
Netherlands

Cool…

@Jan: Beautiful piece. Thank you. My all time Oranje hero to be honest. Still have a match worn signed Ajax Nees shirt courtesy of my brother's ex-wife who dated him shortly one summer in 1970/71.

Yeah, he's a hero isn't he? Did you guys know about his presumed antics in New York? Is that common knowledge?

@Jan: I don't think that is common knowledge. I don't know much about it, and it was in a time when Europe did not care too much about what happened in the US on the football/soccer front. And in the US soccer was struggling as well, so not much really still lingers around from those days.

Perhaps this is why Ryan Babel is going backwards. He does not seem to have his mind on football anymore:
http://news.bbc.co.uk/newsbeat/hi/music/newsid_10000000/newsid_10001000/10001044.stm
What an idiot.

Babel should focus on getting better or else he won't make the cut for the WC '09.

Babel isn't getting any better. Honestly, there are about 10 or 20 guys I'd put on the roster ahead of him (including Makaay, Zenden, Sibon, and Seedorf, LOL!)

Man, this is nothing… Don't you remember Ruud Gullit's reggea career??
My goodness….the humiliation…
And he didn't do too bad as a football player…
By the way, one Bob Marley was quite a good football player, and so was Rod Stewart. And Julio Iglesias

i always told you people that Babel is a crap player … not good enough as a left winger, not good enough as a striker, not good enough as a number 10
btw; Gullit is becomming the most underrated player in dutch history…we all seem to forget how great he was cause of all his post-career actions (managing etc.)
still hope Bergkamp will come to his senses and stop playing a manager!!
Posted from
Netherlands

Here is a link of Ruud Gullit's song.
http://pages.sbcglobal.net/jamesey/ruud/Ruud%20Gullit%20-%20Not%20The%20Dancing%20Kind%20(1984).mp3
Posted from
Netherlands

one of my all time oranje hero as well. great article,congratulations Jan.
btw recently my bedroom was paibted – the walls and orange now! i was thinking of painting a kind of wallpainting with my all time favourite players – cruijff,neeskens,rensenbrink,gullit,rijkaard,van basten,r. koeman,davids,kluivert,seedorf + ronaldinho,eto'o,iniesta – in action,but finally i decided not to do it. maybe one day. but it really nice to see everything in orange
Posted from
Hungary

Well, a photo would be nice, Ferenc

@ferenc ; you are one true, loyal Oranje fan my friend! wouldnt get away with orange walls at home myself…
Posted from
Netherlands

Geez Ferenc I MUST get a pic of that wall Buddy – How's your dear Mum ? Time to come by Singapore again and enjoy some Chilli Crab Nice Wines and lots more delicious Food !! BTW I did really like Neeskens too. Did anyone ever read the story when he was Guus assistant in Australia he told the players they must start measuring the accuracy of their long pass. "Try hitting the cross bar from the 18 yard line. They all tried, some got close, some got it after 10 tries. They all looked at Nees …"So ? You think you can still do it ? Nees positions the ball takes 3 steps back and drills the ball against the crossbar !! End of discussion ! *sighhhhhh. Lotsa wannabe's remained just that after the kick!
Posted from
Singapore

One Hour ago – Italian press says Sneijders price has been dropped to 15m Euros by Real and Inter can now make the bid !!! Hope So (altho I prefer Milan)
Posted from
Singapore

Carlos,Jan:i'll send you some pictures (i'll download the picture to my computer in the coming days). btw,is it possible to put a photo here? and how?
Carlos: i have already my plain tickets for my next winter trip – this time i'll start it in singapore and finish it in sydney (i'll spend 3 days in singapore from the 8-11 january). so,i hope we'll meet again there.
actually orange is a beautiful colour,so i really enjoy it. an old dream came through.
i'm agree with goose that gullit is underrated. actually at milan – especially in the first 2 years – he was the superstar,not marco. the paid big money for ruud and they got marco for almost nothing.
Posted from
Hungary

i prefer milan too (because of gullit,rijkaard,van basten and seedorf),but inter already has eto'o and if they got wes i'll watch lots of their games. he might become a big star there,because they don't have any treequartista and mourinho desperately needs one. zlatan has gone,samu is a (deadly9 finisher so there is plenty of room for wesley.
Posted from
Hungary
Comments are closed