New book on WC1978 Argentina…
December 9th, 2008 | by: Jan |

Comments(7)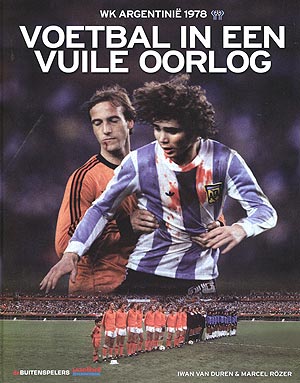 New book: Football in a dirty war
When the elegant playmaker Hansi Muller decided to approach his coach Ernst Happel when both at FC Tirol with the words "coach, I need to talk", Happel responded: "If you want to talk, you should sell vacuum-cleaners…"
Happel's illustrious spirit is the main character in the new book "Voetbal in een vuile oorlog" (Football in a dirty war) about the WC1978 in Argentina.
In the torture-chambers of the Videla regime, the prisoners could actually hear the cheers of the homeside fans when their nation played Holland in the finals. Historically, that angle of the story is way more important than Happel's shenanigans.
As it is historical how crown princess Maxima, married to Dutch crown prince (and court jester) Willem Alexander and daughter of a secretary in that regime, will host one of the Mad Mothers. Argentine striker from those days Leo Luque said: "In hindsight, we should never have played that WC…"
But, it was played. And apart from the pitch black stories, there's also some colorful anecdotes, who won't be able to be told about current WC's.
Ernst Happel is often the main actor in all those stories. The brilliant tactical mind of the "Kein Keloel School of football, who once ignored the Dutch ambassador at a function with the soundbite: "So, where did that joker play his football then?"
Happel, the weldmeister, has been dead for 16 years now and won't be interviewed anymore. His assistant, Jan Zwartkruis, is but it feels that he uses all his interview opps to color Happel as black as the WC, still hurt by the fact that Happel was put in charge of Oranje just before the WC.
Zwartkruis describes Happel as a genius, but also as a chainsmoking, hard drinking, gambling and women-chasing monster, who lost touch with his players and has to thank his assistant for bringing in the young PSV players in order to save the tournament.
Zwartkruis is still out for revenge. Happel never took the army coach serious and Zwartkruis was never ackkowledge of his role in the unsuspected success in 1978.
Ex-internationals like Johan Neeskens, Arie Haan and Ruud Krol doubt Zwartkruis role in the WC, but the main players in this infamous chapter in Oranje's history aren't around to testify.
Oranje defender Wim Rijsbergen got injured during the WC1978 and wasn't able to play much. Intrigued by the actions in Holland, by comedians Freek de Jonge and Bram Vermeulen, he decided to take time off and rent a bike. He drove to the Plaza de Mayo to visit the Mad Mothers. He was deeply shocked and touched by what happened and kept in touch with the movement in Argentina.
The first book published in Holland was given to one of the visiting mothers, who immediately gave her copy to Rijsbergen.
Freek de Jonge was present at the function as well, where the Mother – Nora de Cortinas – also met with Princess Maxima, imploring her to share the stories with her children. Nora said: "She knows what happened now, and she has a responsibility to tell the stories and share them. So we can learn."
Freek is still agitated: "Now, everyone talks about the ball Rensenbrink hit on the post, but that tournament shouldn't have played."
Ernie Brandts still has Luque's shirt. "He was a horrible player, he was mean," laughs Brandts thinking about the memory. I still have his shirt and it was full of blood, very telling…"
Luque wasn't the biggest friend of the Dutch, but that's changed now. Luque was in Holland when the book was presented and said: "As far as I'm concerned, Oranje could have won in the finals. With what I know now, I can't say I'm proud of my victory. With what I know now, I am a strong believer that we shouldn't have played. But I didn't realize all this. Most of us didn't. We just played football."
Asked about the remarkable 6-0 against Peru, Luque admits that anything could have happened. "I don't know, honestly. But Videla did many bad things, much worse than bribing, so… But, we did play a tremendous game against Peru…"
There is no proof, but it's telling maybe how one of the Peruvian players has been nicknamed "the bribed one" in his hometown and it is also know how Videla quickly visited the Peru dressing room before the match. The rumors that Peru was given container loads of grain after the WC are very persistent. Argentina needed 4 goals difference to reach the finals, against an opponent in great form. It was 4-0 after 50 minutes…
There are clips on YouTube (goose?) of that Peru match and it doesn't seem that Peru just opened the doors wide open, although Kempes does seem to get a bit of space and Luque's fourth goal is clearly off side. But the ref, the same one who'd lead the finals (!), didn't do a thing.
Luque now claims Holland was the better team in the full 90 minutes, but Argentina had the better lungs. He also told the people present how close Rensenbrink was to killing off the game. The translator during the function made a mistake translating his words and said "Rijsbergen almost scored but his the post".
Wim Rijsbergen, present in the back of the room, stood up and yelled: "Hey, I would definitely scored that ball man!"
Subscribe

Netherlands World Cup Blog RSS Feed

Share
Comments

@Jan – I'm having some trouble following this article.. did you take it from somewhere else? What are the Mad Mothers?
Posted from
Canada

out off topic
castelen is always injured this time heavily(re injury ofthe same knee)what a pitty dutch going to lose one more hugly talented palyer.
same can heppen with luirink.
guys tyndalli looks business ofcorse heshoul be calledup i think if he continues like now he will our RB for WC10
@jan plz write topic abt Gio vani vanbronkhost about Doe we need him in wc 10?
i am looking for some new diffenders with holding mids with schaars and da silva
if we are taking RVP,babel and hunter we dont need any other striker.
Posted from
India

@jan soory for missing letters this keyboard is too funny.
Posted from
India

correction sorry
Posted from
India

No probs, Tiju. I'll see what I can cook up.
@Caleb: I'm pretty sure I mistranslated the Mad Mothers thing. Here goes:
In Argentina, with the Videla people in power, heaps of opposing forces basically disappeared off the streets. They were taken at night or kidnapped from the streets (anyone but mainly intellectuals and journalists) and tortured in prisons and/or killed. There are lots of stories they'd be taken in a plane and thrown out at high altitude and all that.
The mums and wives of these disappeared (the Mothers of the Disappeared) would group together at some square and just walked silently with pics of their loved ones, being scrutinized by soldiers.
They called them the Mad Mothers or Crazy Mothers or something like that.
Sting composed a famous song (They dance alone) about them and U2 had "Mothers of the Disappeared" on the Joshua Tree album, I think.
Foreign camera teams in those days used to film them and their stories and they were the ones in 1978 who got the left Dutchies to pay attention and protest against, among other things, the WC1978. Wim Rijsbergen actually met them there when he was injured and couldn't play. This new book is about that chapter in Argentinian history.

@Jan – Ah I see, thanks for the explanation Jan. I knew about the corrupt government and the people just 'disappearing', but I never knew about the 'Mad Mothers' or whatever they were called.
Posted from
Canada

Jan, just informing (as I live in South America, I think I can bring more information): here, the Mad Mothers are more well-known as "Mothers from Plaza de Mayo". That's because the mothers of disappeared heaps usually grouped – some still group – at Plaza de Mayo (May Square), in Buenos Aires center.
BTW, the gossip about the possible bribery with Peruvian players before Argentina-Peru grow more and more as years pass. This year, as Argentina victory at WC completed its 30th birthday, there were a lot of TV reports. All of them are saying now "well, we'll probably never know if it really happened, but it's more and more possible". Of course, as Leopoldo Luque said, Argentina had a good team and would probably have won Peru. But not by 6-0.
That WC Final was very violent, wasn't it? Passarella elbowed Neeskens, and the latter lost two teeth…
Comments are closed