Louis van Gaal to Bayern Munich till 2011…
May 13th, 2009 | by: Jan |

Comments(8)
…or until he's sacked
.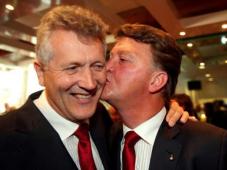 Seconds after this pic was taken, Rummenigge apparently frenchkissed Scheringa…
Bayern's management traveled to Alkmaar to negotiate with Dirk Scheringa about Van Gaal's free transfer to Munich.
Everyone came out happy. Louis will practice his Deutsch "Bist du so stumpf oder bin Ich so schlimm??" and Bayern will either come to Alkmaar for a friendly leaving the takings for Dirk or they will buy an AZ player (Schaars?) and pay the asking price without hesitation. Or both…
In the meantime, Co Adriaanse has told AZ's management he won't be in for the AZ job either (he said no to Ajax earlier in the week). Frank Rijkaard gave Ajax the cold shoulder as well, telling them he'd like to wait for a big European club to sign him. Ouch!
Subscribe

Netherlands World Cup Blog RSS Feed

Share
Comments

Didnt Adriaanse just say that he dont want to make that decision right now? I heard something about that he wanted a long vacation first.

Van Gaal will do a good job at Bayers. My concern is that his tough character can damage him because Germans are tough too. But in terms of football he is a coach that has won everything at club level,would be interesting to see if Schaars goes to Munich…it can be a good Dutch partnership with v. Bommel at the heart of the midfield.

True Mario, I think as a coach Louis can do wonders in the Bundesliga with Bayern but Louis the media man will have lots of challenges.
Lerkot, true… Adriaanse said it was too early for him to decide. By now, PSV, Ajax and AZ have tried. Adriaanse was ready to retire before the Porto job (he's financially secure and independent) and with his 62 years on the clock, I'm sure he will ponder retiring again. He puts in a lot of energy when he takes on a job. Obviously, he's also keen to wait for a bigger European club to knock on his door, I'd say…

Just read that Verbeek is in the picture for AZ ??
Posted from
Singapore

Don't know how they'll get themselves out of this one. Good coaches are getting harder and harder to find for eredivisie clubs, even dutch coaches seem to avoid it.
I'm getting more frustrated every month with whatever hapens in eredivisie. I'm sick of having people talk 40 hours every week about what is wrong with our competition and other crap. It's time to make some big changes within 6 years. Form like 3 full competitions with the best Dutch, Belgian, Danish and a FC Luxembourg. Put a solid underground with german regionalliga's as example with promotion and relegation all the way down to amature clubs. Then organize the WC with Belgium. And voila. You have 3 times as much money, bigger stadiums, an attractive first competition of like 16-18 clubs, a much bigger market, and clubs will be more competitive again.
Problems solved for three minor competitions. We could even hold a cup between the winner of the cup for the new competition, the scottish cup winners and Scandinavian cup winners.
Everyone sees the problems but no one does anything while doing nothing is even making things worse, cause eredivisie has no extra possibilities. The last change possible is reforming the first division, adding prom/releg there, and forming topklassen.
Now i think about it, i do agree with a post on a earlier article. The future of european football will mean bigger competitions. But how big in unpredictable. Maybe it'll mean several big competitions where the first 2 place themselves in a different version of CL. Where like 10 teams play a full roster against each other and therefore no longer take part of their competition. With sort of european prom/relegation play-offs.
You could imagine a scandinavian competition, a britisch one, including Ireland and Scotland, Iberian with Spanish and Portuguese clubs, Maybe Benelux/French, German/Austrian/Swiss, Balcan league, Baltic states with Latvia, Lithuania and Estonia. Lots of things are possible, and i say why not make most of the situation ,cause Platini is extremely progressive considering his predecessor.
Posted from
Netherlands

I think joining leagues with at least Belgium and Luxembourg is a good solution for the Eredivisie, but it won't happen because we are stuck with Kesler for life…
Posted from
Canada

Jan…we can advice Louis van Gaal to take a emotional intelligence classes or read some Daniel Goleman´s books because he is an excellent coach but unfortunately he is 57 years old and he lacks E.Q. and that is why he fights with the press and some other people as well everywhere he goes.

I am actually inspired by Henk Kesler, because it proves that it is possible to get very far in life without any skills whatsoever. And if that is not proof enough, there is always Exhibit A, Sepp Blatter.
Ladies and gentlemen, there are no excuses.
Comments are closed