Louis van Gaal to Bayern Munich till 2011…
May 13th, 2009 | by: Jan |

Comments(8)
…or until he's sacked
.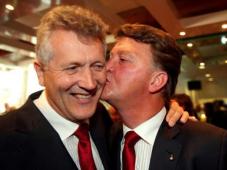 Seconds after this pic was taken, Rummenigge apparently frenchkissed Scheringa…
Bayern's management traveled to Alkmaar to negotiate with Dirk Scheringa about Van Gaal's free transfer to Munich.
Everyone came out happy. Louis will practice his Deutsch "Bist du so stumpf oder bin Ich so schlimm??" and Bayern will either come to Alkmaar for a friendly leaving the takings for Dirk or they will buy an AZ player (Schaars?) and pay the asking price without hesitation. Or both…
In the meantime, Co Adriaanse has told AZ's management he won't be in for the AZ job either (he said no to Ajax earlier in the week). Frank Rijkaard gave Ajax the cold shoulder as well, telling them he'd like to wait for a big European club to sign him. Ouch!
Subscribe

Netherlands World Cup Blog RSS Feed

Share
Comments are closed