Johan Cruyff considers job as team manager!
October 1st, 2009 | by: Jan |

Comments(11)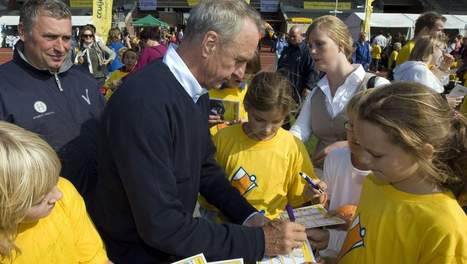 In the next weeks, Johan Cruyff will decide whether he'll make a return as team manager!! The ex Ajax and Barca coach has been invited by the Catalan federation to coach the national selection.
Catalonia has a "symbolic" national team, which is excluded from official tournaments. The team plays one game per year, a friendly against a reputable opponent in the Xmas timeframe.
Brazil, Argentina and England have declined the invite to play on December 22, but Holland is still an option.
Cruyff's job would be to select a group and have them train once. He is supposed to scout his players during the year, which isn't that hard, with Catalans like Xavi, Puyol, Pique and Krkic playing for his beloved Barca, Fabregas at Arsenal, Riera at Liverpool and Ajax players Gabri, Oleguer and Luque. Jordi Cruyff, named after a Catalan patron saint, played for the Catalan team as well.
The Catalan Federation has already announced to have agreement with the Cruyff Foundation.
How cool is this
?
Subscribe

Netherlands World Cup Blog RSS Feed

Share
Comments

i would love to have him as dutch manager for WC2010
Posted from
India

The D.day is on 4th December(the Worldcup preliminary round draw)..
and cannt wait for october 10 and 14th..
Posted from
India

@Tiju I think you mean october 10th and November 14th. There's no game on October 14th.
Posted from
Netherlands

Someone plz provide an update on Robben's injury..please.
I mean I've heard that it's serious.When will he be able to return?
Posted from
India

i'm quite happy that catalunya doesn't have an "official" national team because if catalunya played oranje i wouldn't know what team to support – maybe a draw
johan and even neeskens played once for the catalan national team as honorary catalans
Posted from
Hungary

valdes – oleguer,puyol,pique, – xavi,s.busquets,fabregas – rieria,bojan,luque would be a good line up. actually i don't know if jord is still playing somewhere or not. i have no idea who could be the left back
other news: milan have contacted marco:
http://www.goal.com/en/news/10/italy/2009/10/01/1534519/milan-tell-marco-van-basten-to-get-ready-report
Posted from
Hungary

@Ferenc: That team would probably even qualify for the WC2010. You may even consider "El Gallo" Etxeberria as a forward as well.
I think quite a few countries in Europe are quite happy the Basques don't have their own official national team. That would not be an easy team to beat.

@Abhirup: Re Robben's injury. ESPN has a story that the scan turned up positive for ligament damage, but its not as bad as first feared, and he is expected to miss a month.
Andrew
Posted from
United States

finnster: His team is Catalan, Etxeberria is Basque… dont confuse em.
Fernando Navarro could play as left defender, Jordi Cruijff is playing manager in Valetta and wouldn't make it.

Sorry Ferenc, I got carried away with the Basques in general.

don't worry, Finn,i like basques as well. maybe not as much as catalunya but bilbao is a nice and authentic team (and they hate real madrid)
Posted from
Hungary
Comments are closed