Gert Jan Verbeek new Feyenoord coach
April 6th, 2008 | by: Jan |

Comments(2)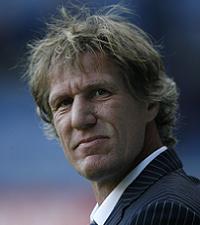 Today, Gert-Jan Verbeek will be presented as Feyenoord's new coach. The 45 year old, who leaves Heerenveen at the end of the season, signed for two years. Verbeek succeeds Bert van Marwijk who will become the new Oranje team manager after the EC.
Verbeek managed Heerenveen for four seasons, and this last one is his best. In his first season, he got 60 points out of 34 matches, now – with two more matches to go – he is at 57 points. Heerenveen also scored prolifically under Verbeek. Second to Ajax, with 81 goals.
Verbeek started his coaching career after his active playing career as Foppe de Haan's assistant in Heerenveen. In 2001 he went for his former club Heracles as head coach. In 2004 he returned to Heerenveen as the man in charge.
Henri Kruzen, five-time Oranje international, former PSV midfielder and current Heracles assistant coach, is named as Verbeek's assistant. In that case, the technical staff at Feyenoord – Peter Bosz as technical director, Verbeek as coach and Kruzen as assistant – all have a Heracles Almelo background.
Verbeek is known to let his teams play attractive, attacking football and is a master in developing young talents' skills and confidence.
Subscribe

Netherlands World Cup Blog RSS Feed

Share
Comments

Good move by Feyenoord.

Great move; Verbeek is a real Feijenoord man…hes from the north east of Holland and people there are very quiet, easy going , hardworking people.. theres a dutch saying wich is really dutch; Doe maar gewoon, dan doe je al gek genoeg; something like; act normal, thats crazy enough…Verbeek is such a person, he was also an amateur boxing champ!
at first i tought that Jan deJonge would be his assistant but the latest news it that it well could be Paul Bosvelt…
this guy was born to be Feijenoord manager
Posted from
Netherlands
Comments are closed