Everyone fit and eager at Oranje and Ruud is on his way
March 3rd, 2010 | by: Jan |

Comments(147)
Spring is in the air and two smiling new faces… What better way to start the preparation for the friendly fixture against the USA. Oranje uses the Quick Boys complex in Katwijk for training, witnessed by a number of Japanese journalists.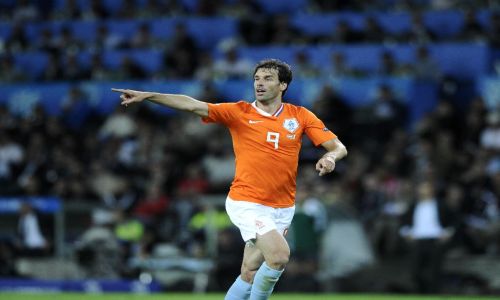 The night before, Twente goalie Sander Boschker and Feyenoord defender Ron Vlaar were welcomed by team manager Bert van Marwijk. "And a warm welcome it was," says Vlaar. In 2005, he had his last call up. He was twenty years old then. Now, five years and two major knee injuries later, he's back. The lad Vlaar became a man. More robust and grim looking with his shaven head. Memories of Jaap Stam.
"I'm not the same as I was then. I was a boy then. I'm tougher now, due to my experiences and injuries. My selection then was a left field decision. Now I'm 25 years old and my status is different."
The Feyenoord defender worked with Van Marwijk at Feyenoord. The Oranje coach had informed Vlaar that he was on the radar, but wouldn't be selected in 2009. "I was happy with it. Van Marwijk was clear, both to me and to the media. It took the pressure of. I've focused on Feyenoord and that went well. I also knew I simply had to deserve my selection and I feel the time is right now."
Oranje may have one of the best defences statistically, friend and foe agree that Ooijer, Boulahrouz, Loovens and Marcellis are not world class names. Some people see the new Stam in Vlaar. "Oh, I don't like those comparisons. Too much honor. Stam has played with major clubs, won prizes, played big tournaments. Please, don't compare me with him yet. I'm basically still a youngster, despite my age. But I can see the reasoning behind it. We are both bald, haha… No, seriously, Stam was a good header, like me, and he's tall like me. But Stam was pretty fast and I'm afraid I'm not. I do look at him as my role model, really. His biggest strength was his mental strength and his determination. I think every player in the top competitions have skills and talent. That's not enough. So, I do like to aim for the Stam level, but let's talk about that after I have retired."
Sander Boschker was invited for Oranje before, but he never played for his country. This selection came after Michel Vonk had to bail due to some stomach infection. It wasn't the only good news for Boschker. When he heard Van der Sar declined to go to the WC for Oranje, Boschker knew his chances to go to the WC had increased. "Let's face it, it is a great decision by Edwin," Boschker joked.
There is a good chance that Van Marwijk will want to take one talent along to the WC, but also one experienced goalie. "Well, in all honesty, I think it's only logical that Van Marwijk picked me, really. Of the top goalies in Holland with a bit of experience, I think I'm doing pretty well ( Feyenoord has 41 year old Van Dijk, AZ has an Argentine goalie, PSV a Swedish goalie…). I haven't booked my summer holidays. I mean, who knows… there could be something interesting on the horizon…"
The Twente goalie will need to prepare a bit better. When asked about the Oranje opponents at group level, it takes a lot of time for him to remember Denmark and Cameroon. He couldn't even remember the third nation, Japan.
Does Boschker think an experienced goalie is a necessity, behind Stekelenburg? "I'm not sure if it is needed, but I would support it." If Boschker makes his debut for Oranje, he immediately will be the record holder. Piet Kraak was the oldest ever to make his debut, with 38 years in 1959. Sander Boschker is currently 39 years old.
Bert van Marwijk had a fit squad at his disposal, although skipper Gio van Bronckhorst decided to rest. The Feyenoord left back wanted to spare his knee. He told the media that he will be totally ready to play the USA on Wednesday…
Van Marwijk also had a conversation with Ruud van Nistelrooy in Hamburg. The team manager: "I think we have an understanding. I saw Joris play and had spoke to coach Labbadia about Elia's injury."
The former Feyenoord man looks back with positive feelings on his talk with Ruud von Tor. "Ruud declined to play for Oranje after 2008 and I think he'll need to formally call me and inform me that he's available. Ruud said he'd do that only if he's fit and in form. I think that is really sensible."
Joris Mathijsen is ecstatic with his new team. "Ruud oozes quality. I mean, scoring twice when you come on in the second half in your first match… Man… And at training, you can tell how good he really is. Even if he'd never play, but only trains, he would make our team better. But don't worry, he'll be fit soon and he'll make a mark in the Bundesliga." Mathijsen didn't want to speculate about Ruud's return in Oranje. "That's not for me to talk about, really. He's not part of Oranje now and he's injured. End of story. But…if he plays five, six games well for Hamburg, who knows. He needs to get rhythm and confidence and then the story will tell itself, eh?"
Eljero Elia isn't worried about the fitness of his new team mate. "He was training to eagerly after the game. His muscles were too tight. It's not a major injury and he's doing some light recovery training now." The winger, who made his debut for Oranje this season, is totally overwhelmed by Van Nistelrooy and can't stop talking about him. "It is so cool to play with him. He's a totally chilled out guy. First time I met him, I was a bit in shock. And he hugged me! He's so good for the team process and for the youngsters. I learn every day. He gave me lots of tips already. He said: make more actions and dribbles, don't worry about defenders. They don't exist. That kinda stuff. He wants to make me better. Man, he's a giant. He was top scorer in Holland, England and Spain. All the fans love him wherever he goes. Here in Hamburg, the fans sing his name every week. It's so cool." Elia hasn't had the chance to actually play with Van Nistelrooy in an official match. "That is my dream! In Oranje…well, who knows. I do hope he'll come to the WC. But, he'll need to get fit and perform for HSV. Oranje will follow. And that actually applies to me, as well, hahahaha…"
Subscribe

Netherlands World Cup Blog RSS Feed

Share
Comments

I could nt see the match,they will show all old fart cricket matches here what to do…..i should get out of this country soon…
@Finn buddy i know Carragher retired .
But i can guess how kuyt,Roben played…
Roben case is different he doesnt want to get injury,he plays really well when it counts,thats what we need.
Kuyt case,dont blame him ,he is not orange material along with afaleey.Come on guys lets realise that kuyt is shit as a striker.
i am not surprised with WES and RAF,they are orange matierials always,the worrying thing is they should be physically fit..i hope they will.
Dont write off Ron Vlaar give guy some experience with orange ,we gave plenty of chances to an impotent striker kuyt.at least give vlaar next three chances.
If brapheid is not good we should take a combo of Patric van aanholt and Giovani as left back.There we will get Experience(Gio+(Offence+Athelitsim+Height)Aanholt.
If steke is shakey ,tell BVM to make another call to EDWIN…he will accept if BVM calls him.i think BVM can convince him.
Final Quoate
"Dont worry about Roben,he is one of the trump card of along with Persie,Znijder,Vaart,ELia and RVN..he will perform against big teams in big mathces,he has proved it several times"
Posted from
India

if we use a system of 14141 then it must be dejong as a lone holding mid.De jong is the best destroyer we have but vanbommel gives better vision from back.
Kick out kuyt,Afaleey and babel from the team.
Take RVN,Wijnaldum,Emmanuelson respectively.
Kickout Ooiger,brapheid from back line take Bruma and van aanholt/bauma if fit respectively.
Posted from
India

I am not saying Kuyt had a great game, because he didn't and I agree with everyone that he is better as a winger.
But unlike some, he came to play. He worked his socks off as usual and was calm and collected when he nailed that penalty. His defensive backtracking especially in the 2nd half was outstanding. We need someone of his ilk to deal with extra time, penalties etc.
We need a player like him to do all the hard work, especially on defense because we can not even mark a stamp in our defense, and Stekel out in the box is just like Forest Gump: "Life is like a box of chocolate, you never know what you are going to get"
And how many times did Sneijder play clever balls over the top only to have Babel and Hunter live in offside positions? He got real mad at Babel in the end, which I thought was great.

@Finn buddy
kuyt always gives 100% that is kuyt…But he is not killer in box and not a good winger.As you said he could be useful to receive the long balls after 70 minutes and if the game goes to extra time there we can use his stamina.But dutch is lucky and wijnaldum and Urby are not bad either,they also give good work rate and better skills.
As like carlos buddy says if we play the system of 14141 then kuyt can start.i mean
———–Steke————–
Weil===Heitinga===Mathijenson=Bauma
===========De jong===========
Kuyt==Vaart====Znijder==Roben
===========Persie================
this is the only one way kuyt could start with orange..But i see Roben and Wijnaldum as better Right wingers than Kuyt.Especially Wijnaldum also works his socks off.We can consider deguzman also.
In striker spot it is Persie=RVN>Hunter>babel>basdoSt>Wolfs> is the order in fact kuyt is what???????????????.
Nailing a penalty is different story.everyday you wont get penalty,some times you must find goal from half chances also.Gerd Muller will explain that.Kuyt cannot even score from a full chance.
Just think we were lucky today ,think what if we didnt get the penalty?will you blame reffery?or will you blame your bad luck?
Posted from
India

You are talking a bit thrash again Tiju. Kuyt has scored 9 goals in the best league in the world, none came from a penalty and many from "half" chances.
And how many good penalty takers does Oranje have if it goes that far? Don't forget the final and winning penalty he took against Chelsea in 2006-2007 in the CL semi-final and followed up by scoring Liverpool's only goal in the final. He is a big game player.
Ruud is not even in the picture yet with BVM. Hunter doesn't get to play anymore. Babel is as useless as ever.
And don't even attempt to compare Gerd Muller to Kuyt. That is ridiculous. It is the same as comparing Michael Owen to Emile Heskey. Completely different type of players. As Jan said, Kuyt is a target man and holding striker. Gerd Muller was the world's best goal poacher in his time and one of the best overall players in the world. Kuyt will never be even close to any of that.
But because we have no defense, the defensive capabilities of the midfield and attack even becomes very important. There is no better player to backtrack for 90 minutes than Kuyt. He will never be an impact sub that is a waste of time. You either start Dirk Kuyt or you do not play him at all. Never will be useful off the bench as he does not have the speed and is not a goal shark.
Stop worrying about Kuyt, start worrying about the complete lack of focus of our defense and a very dodgy keeper. If we will lose the WC, that is exactly where it will happen. Mark my words Tiju buddy.

1) Good to see Ooijer benched the whole game. I like the guy but he's not Oranje material anymore!.
2) Elia, Sneijder, Vaart , Wiel, Heitinga, Nigel, Bommel did very well.
3) Mathijsen might not be a F. de Boer but he's always reliable.
4) Huntelaar did his job. With Robben and Elia he could take advantage a bit more.
5) I think Vlaar was OK, he needs time. But he can't be nervous in the WC. He has to work on that.
6) Robben wants to make his mark with Bayern who can blame him he has problems with injuries. I don't question his loyalty to the national team.
7) Kuyt not a center forward. When Ruud and Persie get back he has 0 chance.

Afellay is a creative player it's his nature and should play as that with the national team.
9) Braafheid entered the field for a few minutes when we had no midfield (Afellay is not holding material) and he suffered from that, I'd give him more opportunities.
10) Stekelenburg could do better with the goal.
11) Gio is very experienced but I'd use Emanuelson. He deserves a chance to prove his worth (hard now that Jol benched him with no reason).
12) Babel played 9′ so I can't comment on that let's hope he still gets more minutes with L'pool and keeps on playing the way he's been.
We can't afford any errors!!!. At the end of the game Holland started to slack off and the US took advantage of that plus the fact that we had a lighter holding midfield.
*KEY PLAYERS FOR THE TITLE:
Robben, Persie, Sneijder, Bommel, Nigel.
HUP HOLLAND HUP!!!

i didnt compare kuyt with Muller i will never do that..But yesterday kuyt played as final targetman.Muller was a final targetman.their duty is to score goals.if they dont do that i will consider them as failure there.kuty fails there.
He scored 9 goals(1 goal/260 minutes) ok most of them were TAP INs ie in a way it was half chances .i do agree that he is very good at TAPINs.
But Finn Buddy if we want to win the cup
We need healthy RVN and RVP
Fresh blood in diffence
Focus(as you said).
We need more hard work from Robens,Elia,babel,Znijder etc kind of players.
i agree on GK issue but i belive it is curable.
Final quote
"kuyt cant play as central striker and he is not a good winger either.but definitly desreves a call ahead of afaleey and babel."
Probelms of orange
Lack of confidence/Consistancy of Stekelenburg.
Lack of focus of young diffenders.
Lack of pace of oldies(Gio,Ooiger)
Lack of hardwork from trikery players(Roben etc)
Lack of creativity(kuyt)
Posted from
India

And Elia still needs a hair cut.
He looks like the last of the Mohicans.

I think tiju's line-up is perfect . I always said vaart and sneijder should be used as our back-bone , i mean : put vdv and wes first , then put your line-up around them . they can be better than xavi and iniesta , I'm pretty sure of that .
As for Elia .. well , the guy played good yesterday . But i still can't see him handling a starting spot in oranje . I'm TOTALLY convinced that this guy may be one of the best players in the world one day , but in this stage , he shouldn't start for us in the worldcup . It was clear that he is more dangerous when he playes at the last 30 minutes . I also think marwijk should give him some lessons about TEAM-WORK

No one in the world can say that kuyt is good as a central striker , Only van basten did that , and we all know the result !
and i think afellay was great yesterday , and he can be even better if he plays beside de zeeuw .
Bommel-de jong /Afellay – de zeeuw .
So Marwijk can drop schaars and engelaar now .
Still think Sar , r.stam , tiendalli , bouma and emanuelson have a place in oranje .

I think we only lacked Urby in the squad – He can be left back – left mid and DM …even a No 10 if Wes fails. He's the ultimate Cocu (not quite his stature though). RVP n RVN would be welcome additions.
Posted from
Singapore

@ JEROEN:
Yes i remember that you and I completely agree that Wes. and Vaart should play together. Though before the game, the vast majority of the people here actually prefer 2 defensive mids.
My opinion is that if we are going to have only 1 defensive mid, than Van Bommel will be picked ahead of De Jong, and we all know why

Guys Picking up vanbommel over Dejong will affect the balance of team,especially in terms of diffencive aspect.For me dejong is better hardworker than bommel,dont forget we have weak links in hardworking(Roben).But bommel is more good in build up play and long pass.Bommel really needs another diffencive midfielder with him.
@Mohmed Schaars didnt play isnt it?without giving a chance how can you omit schaars?
Posted from
India

Guys i dont know how many of you the facts…
Vaart is always a big game player.he all ways plays well against strong oppoents(Hugly talented son of god).The guy is mercurial when he is fit.Sad that he came as late sub against portugal in 2006.
Mark my words.
If we play kuyt as central striker in WC,That would the End of Dutch in WC.
Posted from
India

After watching SPAIN we have a lot of work to do, we are far from them.

"Spain team to face France (4-5-1): Casillas – Ramos, Puyol, Pique, Arbeloa – Silva, Xavi, Xabi Alonso, Busquets, Iniesta – Villa. "
If del-bosque can drop Fabergas then we can kickout kuyt,babel,Afaleey,Brapheid,ooiger from the team.
Posted from
India

@ Jad, dont think we are very far..
Thing is this. if we play 4231 we need to have a very good striker up front , who can hold the ball well and be able to distribute it, so that all other attacking players can link up and move forward with him.
I agree with Tiju , Kuyt is a no good striker, at least not in a 4231 system.
Huntelaar is even worse.. The latter cannot hold the ball to save his life. they both have less than required ball control and passing abilities to be able to do a good job up front. Unlike vPersie (pre-injury) and VNistelrooy in 2008..
However 4231 is still a very useful system for us because it does cover up a bit for our weaknesses in the back. If we have a fit VPersie or VNistelrooy, we should definitely stick to this format.
on another note, a good alternative is 4141. Huntelaar's ass was saved yesterday by the fact that Sneijder and Van der Vaart were playing alongside each other last night.. Along with vBommel, they completely dominated the midfield and allowed the ball to move forward and the players to link up with each other through them.
About Robben.. I think our play in a 4231 system with a mediocre striker up front further suffers if we have both robben and Elia playing together at the start of a game. With a situation where a striker is not holding the ball or distributing it well , we're consequently relying too much on those two players to move the ball forward in the manner that they do it: Dribbling!! Especially at the start of a game when the other team's defense is still fresh. Our play becomes too predictable.
Posted from
Norway

@Tiju :
"If del-bosque can drop Fabergas then we can kickout kuyt,babel,Afaleey,Brapheid,ooiger from the team."
Totally disagree. All of these players you want to drop are very useful if they are used at the right time , in the right way. At this point of the year, a few months to go for the cup, it does not make sense to keep on introducing new players.
Keep in mind that while all the players that u want to kick out have weaknesses , they also have plenty of positives that you need to consider, and realize where they can be utilized.
Kuyt – amazing work rate, can score goals, fantastic attitude/mentality both on and off the pitch, very decent right winger.
Babel – can be explosive at times, if he wants, fast, a good last 15 minute addition to score a goal.
Afellay – is skilful, fast, very mobile can play a holding role with forward runs well – i prefer de zeeuw by a long shot though
Braafheid – can be very useful going forward. much more useful than Gio in attack, very fast and athletic, can link up with a winger well
Ooijder – experience, and more experience , can be a great addition to run down the clock when ur winning
Posted from
Norway

@ Tiju bro :
schaars didn't play , but he was given many chances before and he didn't add anything special . I admire schaars as a big talent , but he needs to move to a stronger comptition if he wants a place in oranje . Jan had said before that there is a two-steps difference between eredivisie and oranje . players Like v.d.weil , de zeeuw and emanuelson could adabt with that difference , others like schaars , afellay who are considered as two of the best eredivise players needs to play in a stronger league to show their worth with oranje ( well , afellay improved a lot this season )
another thing i'd like to say , i'm the most one who wants to see vdv and sneijder starting together in the WC , however , playing with one DMF will be so risky . Our defence isn't that strong ( we have to face that ) , it's not bad though , But it needs to be supported with two DMFs ,
i'd start with this line-up in the WC :
STEK
HEITINGA – MATHIJSEN
WEIL – GIO
BOMMEL – DE JONG
ROBBEN – VAART – SNEIJDER
PERSIE

i watch all the big games yesterday and my conclusion is orange and spain are the only team who can use 4-2-3-1/4-5-1 properly with the right player. germany and france should drop 4-2-3-1 and switch back to 4-4-2.
all orange need now is a fox in the box,drop gio, and we are good to go.
Posted from
United States

@Mohmed schaars didnt get so many chances ,most of the time vanbomel-Dejong pair played.But schaars had one bad game against England.But he had good a game against Australia with desaaw.
Schaars is not silky like Roben ,so people wont realise his importance immediately.if we consider holding mid postion he is 1000 times better than Afaleey.
I thought afaleey is good but i would prefer kuyt over him in right wing.
For me these are the issues
Kuyt lacks creativity,trickeries and speed.
Afaleey lacks the wisdom/Vision of Vaart,Persie,Znijder,Bommel.
Babel lacks work rate
Brapheid..Not good in offencive aspect.
Ooiger-A very focused diffender but too slow now,Defoe,rooney,roneldo will tear him ,i dont want to see that.(He was a TRUSTWOTHY DIFFENDER FOR US he never let us down kudos to him for that now it is time for Bulah,Brumaa,Vlaar and heitinga in RB and CB positions).
Afaleey got several chance but where he stands now in orange?.
Our GOOSE BUDDY doesnt like headless chickens in the field,i belongs to that party.
Posted from
India

@Moh
your 11 is the way to go, we don't really need dirk, rafa is a better performer, he brings something extra to the team like iniesta.
Posted from
United States

Van Bommel is also a destroyer guys. And the guy has a decade worth of reputation. Every time he had the ball yesterday, you could just see the Americans were even anxious to get near him. I think van Bommel and de Jong have both done excellently this season and frankly I would want both on the field at all times, but still if
I have to pick one to dictate the DM line and coordinate I would like van Bommel. If Ooijer were still behind the DM, I might go for de Jong, but van Bommel just gives us so many more attacking options. Frankly, for a large part of the game, I thought van Bommel was the man of the match. You can see how much he does off the ball that TV doesn't capture.
I think some of our opponents are generally more afraid of our team with van Bommel and de Jong in it. We have some people who can make the opponents think twice about dangerous challenges.
I also think that, in comparison to our defense 8 months ago, they have really shaped up. v.d. Wiel is just great, Heitinga has improved so much, Mathijsen has always been decent, and Vlaar is on the horizon.
In fact, pretty much everything is better than two years ago at the EC. We have van Bommel again, de Jong is on a role, Sneijder has found his place at Inter, Robben has found his place at Bayern, VDV is starting to get first team time, Kuyt is doing good as always, Elia sprang out of nowhere, van Persie was on fire before injury, Huntelaar is slowly but surely wedging his way into first team football.
I am more confident about the WC than the EC, and we all know how spectacularly they played there in the first round.
My two favorite formations to start the WC with:
——————-Steks———————
v.d. Wiel——–Heitinga——Mathijs——-Urby
———————-van Bommel——————
Kuyt——–Sneijder————VDV———Robben
——————–van Persie—————-
And
——————-Steks———————
v.d. Wiel——–Heitinga——Mathijs——-Urby
———————-van Bommel——————
Kuyt—————Sneijder————–Robben—–
———–Van Persie—————————-
——————————-Van Nistelrooy——
Emanuelson is the only person I can really see filling that left back spot. He needs to work on his defensive skills but he is a beast coming forward. As much as I would like to see Elia in the starting lineup, I did not see enough yet yesterday to warrant this. As a sub, he has been amazing though.
I think the 4-2-3-1 only works with a striker that is multifunctional like van Persie. Others who are poachers like Huntelaar, van Nistelrooy need more feeding from the AM line which they will not get. With a 4-1-3-2 with van Persie as shadow striker I think you can put in a poacher next to him, like a Bergkamp-Kluivert combo.
Posted from
Netherlands

Kind of a disappointing game… not terrible, but really we should have scored 4 or 5 goals. The gap in quality was huge for most of the game and we should have crushed them long before they had a chance to mount a bit of a comeback at the end (which in itself was kind of worrying). I hope Ruud comes back soon!
@Finnster – spot on with your post about Kuyt.
@Tiju – you didn't even see the game and yet you just come here to criticize Kuyt?? Seriously, grow up. Let me ask you, who scored the first goal?
Posted from
Japan

@Jereon – I completely agree with you about the defence, it's much better than it was previously and I don't feel very worried about it anymore. Sure they made a serious mistake by not marking Bocanegra which cost us a goal, but otherwise they were very solid. Hopefully the slip today was only cause it was a friendly. (Still inexcusable, but hopefully they have better concentration in a real game).
Posted from
Japan

The coach will start Kuyt–and he'd better. The guy is not a great central striker; he needs to be on the right wing where he is very effective; an excellent support man. Has always been an underrated player, IMO. If need be, I would play Kuyt before Robben and not think twice about it–he brings much more to the table. The guy has been a stalwart at Liverpool and they don't play any pikers.
Comments are closed