Everyone fit and eager at Oranje and Ruud is on his way
March 3rd, 2010 | by: Jan |

Comments(147)
Spring is in the air and two smiling new faces… What better way to start the preparation for the friendly fixture against the USA. Oranje uses the Quick Boys complex in Katwijk for training, witnessed by a number of Japanese journalists.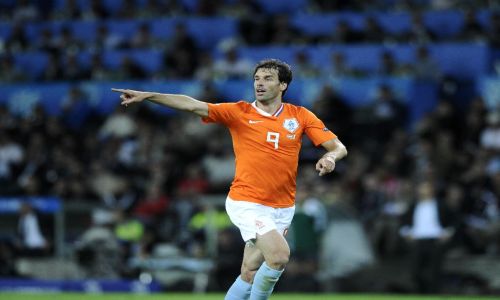 The night before, Twente goalie Sander Boschker and Feyenoord defender Ron Vlaar were welcomed by team manager Bert van Marwijk. "And a warm welcome it was," says Vlaar. In 2005, he had his last call up. He was twenty years old then. Now, five years and two major knee injuries later, he's back. The lad Vlaar became a man. More robust and grim looking with his shaven head. Memories of Jaap Stam.
"I'm not the same as I was then. I was a boy then. I'm tougher now, due to my experiences and injuries. My selection then was a left field decision. Now I'm 25 years old and my status is different."
The Feyenoord defender worked with Van Marwijk at Feyenoord. The Oranje coach had informed Vlaar that he was on the radar, but wouldn't be selected in 2009. "I was happy with it. Van Marwijk was clear, both to me and to the media. It took the pressure of. I've focused on Feyenoord and that went well. I also knew I simply had to deserve my selection and I feel the time is right now."
Oranje may have one of the best defences statistically, friend and foe agree that Ooijer, Boulahrouz, Loovens and Marcellis are not world class names. Some people see the new Stam in Vlaar. "Oh, I don't like those comparisons. Too much honor. Stam has played with major clubs, won prizes, played big tournaments. Please, don't compare me with him yet. I'm basically still a youngster, despite my age. But I can see the reasoning behind it. We are both bald, haha… No, seriously, Stam was a good header, like me, and he's tall like me. But Stam was pretty fast and I'm afraid I'm not. I do look at him as my role model, really. His biggest strength was his mental strength and his determination. I think every player in the top competitions have skills and talent. That's not enough. So, I do like to aim for the Stam level, but let's talk about that after I have retired."
Sander Boschker was invited for Oranje before, but he never played for his country. This selection came after Michel Vonk had to bail due to some stomach infection. It wasn't the only good news for Boschker. When he heard Van der Sar declined to go to the WC for Oranje, Boschker knew his chances to go to the WC had increased. "Let's face it, it is a great decision by Edwin," Boschker joked.
There is a good chance that Van Marwijk will want to take one talent along to the WC, but also one experienced goalie. "Well, in all honesty, I think it's only logical that Van Marwijk picked me, really. Of the top goalies in Holland with a bit of experience, I think I'm doing pretty well ( Feyenoord has 41 year old Van Dijk, AZ has an Argentine goalie, PSV a Swedish goalie…). I haven't booked my summer holidays. I mean, who knows… there could be something interesting on the horizon…"
The Twente goalie will need to prepare a bit better. When asked about the Oranje opponents at group level, it takes a lot of time for him to remember Denmark and Cameroon. He couldn't even remember the third nation, Japan.
Does Boschker think an experienced goalie is a necessity, behind Stekelenburg? "I'm not sure if it is needed, but I would support it." If Boschker makes his debut for Oranje, he immediately will be the record holder. Piet Kraak was the oldest ever to make his debut, with 38 years in 1959. Sander Boschker is currently 39 years old.
Bert van Marwijk had a fit squad at his disposal, although skipper Gio van Bronckhorst decided to rest. The Feyenoord left back wanted to spare his knee. He told the media that he will be totally ready to play the USA on Wednesday…
Van Marwijk also had a conversation with Ruud van Nistelrooy in Hamburg. The team manager: "I think we have an understanding. I saw Joris play and had spoke to coach Labbadia about Elia's injury."
The former Feyenoord man looks back with positive feelings on his talk with Ruud von Tor. "Ruud declined to play for Oranje after 2008 and I think he'll need to formally call me and inform me that he's available. Ruud said he'd do that only if he's fit and in form. I think that is really sensible."
Joris Mathijsen is ecstatic with his new team. "Ruud oozes quality. I mean, scoring twice when you come on in the second half in your first match… Man… And at training, you can tell how good he really is. Even if he'd never play, but only trains, he would make our team better. But don't worry, he'll be fit soon and he'll make a mark in the Bundesliga." Mathijsen didn't want to speculate about Ruud's return in Oranje. "That's not for me to talk about, really. He's not part of Oranje now and he's injured. End of story. But…if he plays five, six games well for Hamburg, who knows. He needs to get rhythm and confidence and then the story will tell itself, eh?"
Eljero Elia isn't worried about the fitness of his new team mate. "He was training to eagerly after the game. His muscles were too tight. It's not a major injury and he's doing some light recovery training now." The winger, who made his debut for Oranje this season, is totally overwhelmed by Van Nistelrooy and can't stop talking about him. "It is so cool to play with him. He's a totally chilled out guy. First time I met him, I was a bit in shock. And he hugged me! He's so good for the team process and for the youngsters. I learn every day. He gave me lots of tips already. He said: make more actions and dribbles, don't worry about defenders. They don't exist. That kinda stuff. He wants to make me better. Man, he's a giant. He was top scorer in Holland, England and Spain. All the fans love him wherever he goes. Here in Hamburg, the fans sing his name every week. It's so cool." Elia hasn't had the chance to actually play with Van Nistelrooy in an official match. "That is my dream! In Oranje…well, who knows. I do hope he'll come to the WC. But, he'll need to get fit and perform for HSV. Oranje will follow. And that actually applies to me, as well, hahahaha…"
Subscribe

Netherlands World Cup Blog RSS Feed

Share
Comments are closed