Dutch competition: PSV almost there
April 6th, 2008 | by: Jan |

Comments(2)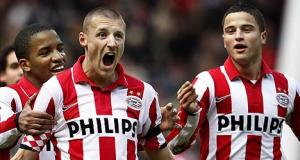 PSV won their league game as expected and is only 2 points away from the title. The champs won 2-0 against Heracles, goals by Timmy Simons and Jefferson Farfan.
Ajax, or should I say Klaas Jan Huntelaar, won also against De Graafschap. The Hunter scored two goals, which means his scoring ratio in the Eredivisie is 1:1 (32 goals in 32 matches). Still, the golden boot will probably go to one C. Ronaldo of ManU (him again!), because his goals are weighted more than the Dutch goals. Still, Huntelaar is in an elite group of famous Ajax goal-getters now, scoring more than 30 times. Only JC, Ruud Geels, Marco van Basten and Wim Kieft are the others allowed in that club. The only difference with those big name players from way back when, is that they all won the title at least once. "I rather didn't score, but won the title," said Klaas Jan. "Scoring and winning the Golden Boot is special of course, but I won't let myself get distracted by it. And I do think it's fair that Ronaldo's goal are valued more, the EPL is a tougher competition. But it would be totally fair if they'd take into account that in England they play four matches more than we do. So, they should compensate for that fact, I'd say. But it's not a biggie for me."
The fact that Huntelaar hasn't won the title in Holland yet could be an angle for Ajax to keep Huntelaar in Amsterdam for another year. His management is currently negotiating with Ajax.
Feyenoord won 3-1 against a weakened FC Utrecht. Coach Van Hanegem missed a couple of experienced defenders and Utrecht could never challenge the Stadium club from Rotterdam. Luigi Bruins, Denny Landzaat and Sahin scored. Jonathan de Guzman was involved in all Feyenoord goals. Feyenoord still shares the fifth spot with rival Heerenveen – coached by future Feyenoord coach Verbeek – but Heerenveen has the edge in goal balance.
PSV leads, Ajax is number two trailing 5 points, NAC Breda the proud number 3 with 3 points less than Ajax and Twente has two points less than NAC on number 4.
AZ Alkmaar won against VVV Venlo 2-3 in Venlo. The Van Gaal managed club still resides on the 12th spot.
Subscribe

Netherlands World Cup Blog RSS Feed

Share
Comments

Huntelaar: 0.9729 goals/game in 2007/8 (36 goals in 37 games)
Ronaldo: 0.925 goals/game in 2007/8 (37 goals in 40 games)
Obviously, as Huntelaar himself points out, the EPL is a much tougher league, but still the man is keeping up with C. Ronaldo pretty damn well. And he's not a total wanker either!
Posted from
United Kingdom

Just read that AZ and Oranje midfielder Stijn Schaars has made his return in an AZ 2 game the other day. The unlucky holding midfielder missed a year of football (at least) due to injuries. It seems he will be fit for next season.
Posted from
Australia
Comments are closed