Donnerwetter start Louis van Gaal!
July 2nd, 2009 | by: Jan |

Comments(40)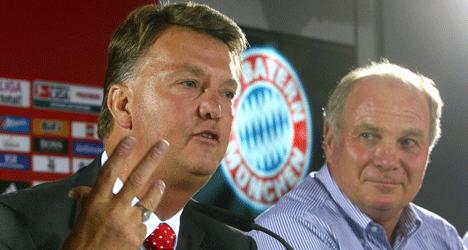 Louis van Gaal's first working day in Munich has been hailed by the German media. The new coach received compliments for his "warm words" during his press presentation. The papers were also very positive about his command over the German language and the way he managed the first training. In particular his attitude towards Franck Ribery was highly appreciated.
Bild talks about a "Donnerwetter" start ( thunderstorm) for Van Gaal. The coach impressed with his story about ganzheitliche prinzipes, (holistic principles), meaning body, mind and spirit of the player and his environment. Van Gaal, the Tulip General, also thinks Van Bommel should stay on as skipper. "Mark is captain material, so why not."
The Suddeutsche Zeitung calls Van Gaal a typical gym teacher, armed with whistle and stopwatch. Accessories of the old school coach. "A confident, experienced and authoritarian master of his craft, oozing charisma."
The Abenzeitung compared the openings speech of the ex AZ coach with a government statement and a romatic declaration. "Munich and Van Gaal finally found eachother."
Der Kicker yells "Louis legt los!", meaning something like Louis is going off! Van Gaal's ambitions are the main theme in the sports paper. "He wants to end his career in Munich with the Champions League cup. His deal ends at 2011, so….".
Van Gaal made a smashing impression in other words. The fans applauded the coach during training and manager Uli Hoeness complimented the former Ajax success coach with his German language skills. Franck Ribery was at the receiving end of Van Gaal's temper and knows who's boss.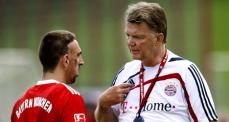 After an hour of training, Ribery suddenly sits down in the blistering heat and pulls off his shoes. Within seconds Van Gaal is in his face. The conversation couldn't be heard, but according to Van Gaal's body language ( red face, finger pointing at his own chest) it's clear that he said something like: "You can only take your shoes off when I tell you to. If I don't tell you, you don't take them off. There's only one boss here and that's me! And don't look at me like that!!" (and all that in German).
The best player (and the best paid player) of Bayern will need to live with Van Gaal's rules. No one is spared. The fans look on breathlessly when Van Gaal is unhappy with a certain exercise. Van Gaal copies new player Braafheid, who reacted too slow in a certain situation. Other players get to hear loud and clear what they did wrong as well.
The fans are astonished. "It's like street theater. But that's what this group needs. It's much better than under Klinnsmann. It was chaos under him. Look, here's a coach with a whistle and a stopwatch. Perfect."
The camera's of the four big broadcasters register it all. For the first time ever, the presentation of the new coach is broadcasted live on four channels! "As of today, the Tulip General rules," screams tabloid Bild.
In the summer months, Van Gaal started his renovations. Eight new players and renovations at the trainings complex as well. Klinsmanns office has to go. Van Gaal demands a new office with windows overlooking the training pitch. He also wants camera's on the light poles and he gets them. His former AZ video analist Max Reckers will register all training sessions and deliver special instructions on dvd to the players.
Van Gaal: "I've been hailed here like royalty and only met warmth. I had a list of wishes and they're all met. I was able to write history in Amsterdam, Barcelona and Alkmaar and I'll do it here too."
And during the press conference, Van Gaal starts with his lessons.
A German reporter: Herr van Kaal, who do we pronounce your name exactly?"
Van Gaal: "Why don't you give it a go?"
Reporter: "Well, it's hard for us… Is it Von Kaal, Von Haal? It's difficult…"
Van Gaal: "Nein, es ist nicht schwierig. It is GGGGGGGGaal…. ( Exaggerates the G-pronounciation). Van GGGGGGGGaalllll……. Van GGGGGGGGGGGGaal… Everybody, please practice at home!"
The room bursts with laughter…
And it gets even more crazy.
Reporter: "Do you enjoy life in Bavaria?"
Van Gaal: "I most certainly do. I enjoy the German food a lot. But the best brattwurst you can't buy in a restaurant? You know who makes the best Brattwurst? Herr Uli Hoeness!! He baked me one last week and it was the best."
Hoeness: "Yes, and der Louis is still alive…"
Hoeness, grijnzend: ,,Ja, und der Louis lebt noch…''
With Uli Hoeness, Van Gaal seems to have a friend for life. The ex-international, with Beckenbauer the most powerful man in the club, adores Van Gaal. In October, the real test will follow. During the October festen, Louis is supposed to join in the festivities in Lederhosen (Hoeness: "Only when you wear these, you're part of the Bayern family) and Truus van Gaal will need to wear a dirndl-dress.
Love at first sight, it seems, but the test will come in five weeks when the season starts. The champion maker doesn't hide his ambitions. "I want to give it my all to win the title, the national cup and reach the last eight in the CL. Our example is Barcelona. That club won the treble. We have similar qualities on the pitch, similar personalities. The difference is, Barca is a team. We need to strive to become one ourselves, and then anything is possible."
Franck Ribery claimed after the training session that he's made up his mind: he wants to move to Madrid. "It's Real Madrid or nothing," the French playmaker said.
Hoeness isn't fazed. "We don't want Franck to go. Simple as that. Real doesn't need to come by. We play Monopoly all right, but only according to our rules, not to theirs…"
Subscribe

Netherlands World Cup Blog RSS Feed

Share
Comments

German papers have indicated that Ribery causing disunity in the camp. Bayern want 80mil euros. Papers suggest the following – take the $55mil PLUS Sneijder !
Did ANYONE here remember Ribery against Holland last year at EC2008 ? Kind of a nobody huh with Henry Malouda Anelka etc etc. Just shows a Champion Team will always beat a Team of Champions.
Posted from
Singapore

sneijder made it quite clear in bild.de that he didnt want to move to Bayern a while back (maybe that's changed in recent weeks). i would prefer van der vaart to move there anyway. a better player in my opinion and already knows how to play in the bundesliga.
btw, ribery is an awesome player – bayern would've been mid-table last year without him. But i do think it's time he moved on. I do think also though that van gaal is too smart to bring in too many dutch players. van Bommel, Braafheid and perhaps one more would be enough. (hopefully vdv, if not then sneijder)

Haha Carlos… the right answer is: no one tripped Holzenbein! It was dive
.
Let's start that debate again, now… 35 years after the fact… My goodness…
Posted from
Australia

Jack Taylor (the English Referee) said 10 years after the event that he was 100% sure about Cruyff's trip but was doubtful on the Holzenbein one. Guess that says it all. No luck !
OK back to '74 – Who was the first player/team to score a goal against Holland in the '74 WC campaign ?
Posted from
Singapore

Ooh…that must have been Argentina, the 4-1 game.
The goal scorer? Some player with his hand?

Sorry Jan – wrong !!
Posted from
Singapore

Happy news finally the suriname DIAMOND castelen romeo is back in action ,mark my words this guy can do miracle for orange.if he is playing the full season,i bet kuyt/vaart/znijder/elia/afaleey anyone of these guys will loose their place.castelen is much better playerthan afaleey and kuyt he has already proved that with orange.bang bang castelen!!!!!!!!!!!!!!!!!!!!!!!!!!!!!!!!!!!!!!!!!!!!!!!!
why i like this guy coz
1.A perfect team man
2he has all the essential qualities for to be an essential ingradient of a champion team.
3high speed-the speedy boy after roban.
4Can play as a winger
5 he is able to unlock any diffence in the world like messi,CR7,Roban etc
6.Master in crucial assists
7Gives hudred percent for the team.
8Plays with great passsion for orange
9.Never giveup attitude
Only one negative point is he is so injury proned and unlucky wat to do its our unluck.
Posted from
India

@jan My previous boss is in germany.offcourse i am expecting an offer from germany verysoon.ha ha how about that.??????????
Posted from
India

My dear friend Tiju – as much as you "love" Castelen, generally I would say he will never play for Holland again. Right now there are at least 4-5 players ahead of him. If I was to put a fair value on him RIGHT NOW it would be 2mil EUROS. Elija = 10mil Euros. Elija has 3 players ahead of him. Can you see the gulf of ability that Castelen has to cross before he will even get another chance ? He is another Reggie Blinker.
Posted from
Singapore

@tiju: Good luck with Germany my friend. Hope you get an offer. A bit of advice though, make sure you lock your bicycle properly.

@carlos actually our preratings are the problem for winning a cup.Brazil coach lui philipe scolary didnt dropped ronaldo for2002Wc and he rewarded him with WC,so thats the way its should as an ingradient champion team player i would rate him ahead of RVN,Znjijder,Roban etc kind of players,coz this guys has the same technique and skills of roban and the mind of kuyt.
before thw wC2006 i knew that we are not going to win the cup coz vanbasten dropped to most inform players(castelen and hunter)
he went there with haiselink,znijder,kuyt etc how pathetiaclly they played is history.
Posted from
India

@dear carlos buddy,
Plz pray he(castelen) gets his fitness and form in the right time,we dont have any hope without him.Poor thing is this guy is very unluky and gets injury quite often.
just see the matches the way he played against the big teams in away matches
Vs England(ask ashlycole)
Vs Romania(away match QU2006WC)
vs Finland(home match-we chased a 1-0 lead of strong finland team-first and last chasing in competetive match by holland under vanbasten)
Vs Sweden
Vs italy
all these matches he was the most rated player.just check it out
Posted from
India

WC2010
Stekelenburg-Peit Velthuizen
1Zuiverloon-2Van derweil(RBs)
1Bulahruz-2Marcelis(CBs)
1Mathijenson-2Maduro(CBs)
1Brapheid-2Bouma/Gio/Donk(LBs)
1Dejong-2schaars
1Emmauleson2de saaw
1Castelen2Roban
1Vaart2Znijder
1Vanpersie2Elia
1Hunter2Babel/Castaginos/wolfswinkel
Posted from
India

I will never in my life understand why you keep bringing Castelen into that eleven. He's made like.. three games in three years.

i think that our best gk now is piet velthuizen…castaignos could be the star of the worldcup 2010 but he should play regularly for feyenoord next season…

The day Castelen takes Kuyt's place in the Oranje, it will snow in hell, the Pope will name Henk Kesler a Saint, Sepp Blatter will starve to death eating only the holes in the swiss cheese and Kevin Keegan will take over from Alex Ferguson.

@finn ha ha ha its my hope man………..
Posted from
India

@Tiju – I love you man, but you are one heck of a dreamer!
Posted from
Canada

Tiju – put down the pipe and get a grip
Zuiverloon – not ready yet
Marcelis – may not be ready yet
Maduro – maybe but too many people in front of him
Bouma – may never play again
Donk – not ready yet
Emmauleson – no way, no position, no chance
de Zeeuw – I have no clue what anyone sees in this man, you must be an AZ fan
Castelen – LOL, ROTFLMAO, thats a good one
Castaginos – the boy is 17!!!! are you crazy?!??! he may not be ready for WC 2014
wolfswinkel – not yet, he's not even playing with a top end Eredivisie club yet
I have to compliment your imagination!

for those of you sleepless, wondering who scored the first goal against Oranje in '74. it was actually Ruud Krol's own goal against bulgaria (1-4). Just to put that into perspective. In 74 NO oppositon team scored against us until Breitner scored from the penalty spot from a 'dive' by Holzenbein in the fnal game and we had the third choice keeper in goal the whole tournament.
Posted from
Singapore

Carlos, it all comes back to me now! Great question…

@Carlos: Just shows what you can do when you have a great defense. That 74 defense was as good as anything put together, bar the goalie.

@carlos if reality doesnt work then you try with imaginary ones thats wat my point.anyway we are not going to win the cup with RVN,Gio,OOiger,heitinga,kuyt,van bommel.so why cannt we play a gamble????????????????
Posted from
India

True… we're definitely winning it with a bunch of suckers though. Especially Castelen, that guy could turn anything into gold.

Tjue: i remember when i saw castelen (twice or three times fall 2004)i thought he was a talented winger but nothing special. since he has disappeared, only news about him are always about injuries. i wouldn't say that his bad but nothing special about him. but it would be really frightening if holland's success depended on him. he's nothing to do with oranje,not even considered as a potential candidate for making the squad. and honestley,he won't be missed.
Posted from
Hungary
Comments are closed