Donnerwetter start Louis van Gaal!
July 2nd, 2009 | by: Jan |

Comments(40)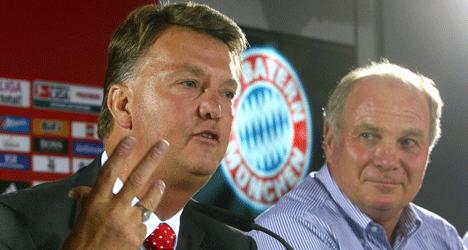 Louis van Gaal's first working day in Munich has been hailed by the German media. The new coach received compliments for his "warm words" during his press presentation. The papers were also very positive about his command over the German language and the way he managed the first training. In particular his attitude towards Franck Ribery was highly appreciated.
Bild talks about a "Donnerwetter" start ( thunderstorm) for Van Gaal. The coach impressed with his story about ganzheitliche prinzipes, (holistic principles), meaning body, mind and spirit of the player and his environment. Van Gaal, the Tulip General, also thinks Van Bommel should stay on as skipper. "Mark is captain material, so why not."
The Suddeutsche Zeitung calls Van Gaal a typical gym teacher, armed with whistle and stopwatch. Accessories of the old school coach. "A confident, experienced and authoritarian master of his craft, oozing charisma."
The Abenzeitung compared the openings speech of the ex AZ coach with a government statement and a romatic declaration. "Munich and Van Gaal finally found eachother."
Der Kicker yells "Louis legt los!", meaning something like Louis is going off! Van Gaal's ambitions are the main theme in the sports paper. "He wants to end his career in Munich with the Champions League cup. His deal ends at 2011, so….".
Van Gaal made a smashing impression in other words. The fans applauded the coach during training and manager Uli Hoeness complimented the former Ajax success coach with his German language skills. Franck Ribery was at the receiving end of Van Gaal's temper and knows who's boss.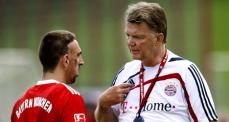 After an hour of training, Ribery suddenly sits down in the blistering heat and pulls off his shoes. Within seconds Van Gaal is in his face. The conversation couldn't be heard, but according to Van Gaal's body language ( red face, finger pointing at his own chest) it's clear that he said something like: "You can only take your shoes off when I tell you to. If I don't tell you, you don't take them off. There's only one boss here and that's me! And don't look at me like that!!" (and all that in German).
The best player (and the best paid player) of Bayern will need to live with Van Gaal's rules. No one is spared. The fans look on breathlessly when Van Gaal is unhappy with a certain exercise. Van Gaal copies new player Braafheid, who reacted too slow in a certain situation. Other players get to hear loud and clear what they did wrong as well.
The fans are astonished. "It's like street theater. But that's what this group needs. It's much better than under Klinnsmann. It was chaos under him. Look, here's a coach with a whistle and a stopwatch. Perfect."
The camera's of the four big broadcasters register it all. For the first time ever, the presentation of the new coach is broadcasted live on four channels! "As of today, the Tulip General rules," screams tabloid Bild.
In the summer months, Van Gaal started his renovations. Eight new players and renovations at the trainings complex as well. Klinsmanns office has to go. Van Gaal demands a new office with windows overlooking the training pitch. He also wants camera's on the light poles and he gets them. His former AZ video analist Max Reckers will register all training sessions and deliver special instructions on dvd to the players.
Van Gaal: "I've been hailed here like royalty and only met warmth. I had a list of wishes and they're all met. I was able to write history in Amsterdam, Barcelona and Alkmaar and I'll do it here too."
And during the press conference, Van Gaal starts with his lessons.
A German reporter: Herr van Kaal, who do we pronounce your name exactly?"
Van Gaal: "Why don't you give it a go?"
Reporter: "Well, it's hard for us… Is it Von Kaal, Von Haal? It's difficult…"
Van Gaal: "Nein, es ist nicht schwierig. It is GGGGGGGGaal…. ( Exaggerates the G-pronounciation). Van GGGGGGGGaalllll……. Van GGGGGGGGGGGGaal… Everybody, please practice at home!"
The room bursts with laughter…
And it gets even more crazy.
Reporter: "Do you enjoy life in Bavaria?"
Van Gaal: "I most certainly do. I enjoy the German food a lot. But the best brattwurst you can't buy in a restaurant? You know who makes the best Brattwurst? Herr Uli Hoeness!! He baked me one last week and it was the best."
Hoeness: "Yes, and der Louis is still alive…"
Hoeness, grijnzend: ,,Ja, und der Louis lebt noch…''
With Uli Hoeness, Van Gaal seems to have a friend for life. The ex-international, with Beckenbauer the most powerful man in the club, adores Van Gaal. In October, the real test will follow. During the October festen, Louis is supposed to join in the festivities in Lederhosen (Hoeness: "Only when you wear these, you're part of the Bayern family) and Truus van Gaal will need to wear a dirndl-dress.
Love at first sight, it seems, but the test will come in five weeks when the season starts. The champion maker doesn't hide his ambitions. "I want to give it my all to win the title, the national cup and reach the last eight in the CL. Our example is Barcelona. That club won the treble. We have similar qualities on the pitch, similar personalities. The difference is, Barca is a team. We need to strive to become one ourselves, and then anything is possible."
Franck Ribery claimed after the training session that he's made up his mind: he wants to move to Madrid. "It's Real Madrid or nothing," the French playmaker said.
Hoeness isn't fazed. "We don't want Franck to go. Simple as that. Real doesn't need to come by. We play Monopoly all right, but only according to our rules, not to theirs…"
Subscribe

Netherlands World Cup Blog RSS Feed

Share
Comments are closed