Controller, playmaker and goalscorer: Ibi Afellay
August 22nd, 2009 | by: Jan |

Comments(16)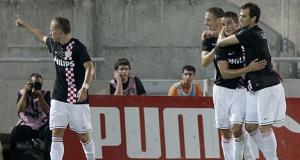 Led by Ibrahim Afellay as their guide, PSV has found the door to the group stages of the Europa League. With the 0-1 win in Tel Aviv, the Eindhovenaren achieved their goal in Europa.
Afellay was position as holding midfielder next to Timmy Simons, just like he was against Twente and Ajax. It's a new role for Afellay but it fits him perfectly. In Enschede, the shrewd Wout Brama knew how to play him, but against Ajax the youngster was the boss.
In the humidity of Tel Aviv, Afellay controlled the game, made it and scored. With one, sometimes two, touches he directed the play left to right and back again. And at times he knew when to move forward to support the strikers. In the 24th minute, after a beautiful combination between Toivonen and Dzsudzsak he scored the 0-1. A scoop. His first European goal ever.
In the 70est minute he actually had to score a second one, but the weak Toivonen overlooked the international.
Fred Rutten copies what he did at Twente with creative midfielder Orlando Engelaar. He moved him a line back and Engelaar played himself into the Oranje selection for the EC.
Rutten gives Afellay much more responsibility on this new spot. He simply has to engage more in the defensive tasks. "Ibi wants more responsibility. I can see that he relishes this role. I needed a better through put from our defense to the attackers and Ibi can do that. He also oozes energy and dynamics and this spot is ideal for him."
But Engelaar is now a PSV players as well and absent due to injury. The big question is, will Afellay hold his spot once the ex-Feyenoord youth player is fit again.
PSV had an easy game in Tel Aviv, on the perfect golf-green like pitch of Bnei Yehuda. Goalie Isaksson had one great save, but even without Ooijer, Manolev and Marcellis, PSV kept a clean sheet without a worry.
The main European goal is reached, which is financially important as well.
But PSV has a long way to go, as they demonstrated in the second half, when PSV forgot to simply play football. "Whenever we had the ball, we lost our composure and hurried along to chase the second goal. In these phases, you simply need to kill the game off first. Play with the head, and not only with the feet."
Subscribe

Netherlands World Cup Blog RSS Feed

Share
Comments

For me Afellay is just a dribbler still now.in orange he used to do so many unnecessary dribbles and wasting the time also.if we are leading by two goals then afaleey is the man to waste the time with his dribbling skills.
he dribbles,dribbles,dribles and so on…………………………
Posted from
India

Eric peiters is doing well for PSV………..ERic the new LB????????????????????????????????????????for orange.he is tall and strong
Posted from
India

It sounds nice
, afellay as a holding midfielder !
i can't deny that afellay is talented , but till this moment , he is not able to show this talent on the international side , may be he needs to move to another strong league , as the EPL or LA LIGA
But i think he will be like iniesta in this new position
@tiju, pieters is not a quality for the oranje at all , i saw him with the youth team ORANJE B , he was a disaster in the back line !!
gio and drenthe are better options for the LB position ,
brafied as a CB .

I like Afellay with PSV I don't know why he haven't performed well with the national team but he is still the best in PSV. In my opinion, the best players in eredivisie now are Afellay, Suarez, Honda, and Dembele. Unfortunately Ibi is the only one who is dutch.
Posted from
Canada

Brafheid should play as a LB only.Vlaar,Loovens(with stronger and taller physique) should fill in to strengthen our central defence…
Posted from
India

de jong is bench again, braafheid starting for mumich
Posted from
United States

I said last week that De Jong won't play with Manchester City. This is crazy. None of our key players except for VP and Kuijt (add VB after he recovers from his injury) are assured of a starting role in major clubs. There is still a long time to go to the WC though so let's not panic as we may find better players during the year.
Regarding Bayern and Van Gaal he did the same last year with AZ and then went on to win so many games in a row. So let's not judge.
I like the idea of someone more dynamic in the center midfield role, so Affelay may be ok if combined with a real ball getter.
Posted from
United States

Arsenal win again. I think Van Persie played an important role in the match. His perfect thru pass to Ramsey was an example of his skill. Ramsey scored the 4th goal for Arsenal after receiving a world-class pass from Van Persie.
Posted from
Canada

De Jong came on for Robinho but only at 83 mins, needs more time than that!
Robben will get lots of playing time for Real Shitrid.
Wes and Vaart need to go this week!!!!!

*ibi isn't strong physically so he must never play in that position especially for holland.
*maduro will not play for valencia this season (they have new defenders ) we must forget him for orange
*drenthe is not assured of a starting spot in madrid
*de jong only playing 8 min with city today ;he will definitely stay a benchsitter for city all the season.
*FINALLY BRAAFHEID PLAYED FOR BAYERN ; if he stays a starter he must definitely play lb for holland; HE IS THE BEST IN THAT SPOT IN HOLLAND ;truly excellent player
*sneijder omitted from real squad and wants to stay!!!!!!!!!!!!!!!!!!!!!!!!
*GREAT NEWS :NISTELROOY BACK IN THE SQUAD FOR MONDAY MATCH.GREAT NEWS

maybe our key players (who are benched,omitted from the squad etc.) are not as good as we think… i start to hate sneijder. two similar examples. michel salgado (who spent at least 10 years at real and gave much more to the club) was told that the club didn't want him anymore. he took the decision with dignity and found a club. the other is one of my fav player,samuel eto'o: he wanted to stay at barca,but is intelligent enough to realize that it's better to go than work together with a coach who doesn't want him. in 5 years he was one of the main architects of all barca's successes (2 cl,3liga,1 copa del rey). comparing to them sneijder did almost nothing for madrid,he's not a club legend. legends know to go away with dignity. sneijder doesn't. stupid unintelligent boy. i'm getting really upset. van marwijk should forget him and recall seedorf. with this mentality wesley is no more oranje material because with his decision he doesn't mind about oranje.
Posted from
Hungary

Again everyone should relax. I am sure Sneijder knows something we don't. He probably has already decided but is forcing Real to compensate him financially. It really cannot be otherwise. Sneijder is not an idiot. He will wait until the last possible moment (same as VDV) and then go. Mark my words. Those are negotiation tactics. If truly no club wanted them they would not behave like this. Example: Do we hear about Maceo Rigters or De Ridder? No why because in their case truly nobody wants them.
Posted from
United States

harsh times for sneijder..
but i do think those words are one step too harsh.
it is difficult for him. etoo and salgado have proved their worth, have hon everything they could win, and probably are very much looking forward to a new challenge.
Sneijder was robbed of the opportunity to prove himself. he deserves better and is better.
Seedorf is a great player but is injured. if he gets better i say select him instead of afellay. never saw the use for that kid in big competitions anyway.
im sure Sneijder will bounce back. at some point.
Posted from
Norway

Easy way to get cheap tickets of Football World Cup in online market.
Posted from
India

I read the news that Serie A has started the competition. Surprisingly, there's no Huntelaar in Milan starting line up? Even not on the bench. Is he injured?
Posted from
Canada

no he is banned because he got a red card with madrid in his last game. by the way milan won 2-1 against siena both goals were scored by .. pato.
Comments are closed