2008: Edwin van der Sar, 13 years at the top!
December 30th, 2008 | by: Jan |

Comments(31)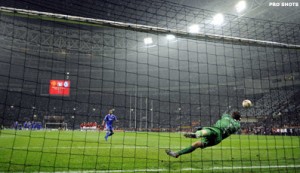 De Breuk with his Sar moment… Or…no wait…Sar in the CL finals with his Breuk-moment!
This December, Edwin van der Sar announced he will stay Man United's numero uno for another season. And why not? He is still one of the best in the world. 2008 was probably his most successful one ever. The 38 year old won the title with the Mancunians, the Champions League and the World Cup. Just like he did with Ajax 13 years ago. And this time around, he was also Oranje's best man at the EC.
"This is not a boys' dream, it's an old man's dream," Edwin laughed after denying Nicolas Anelka his penalty in the CL shoot out against Chelsea. "I needed my Hans van Breukelen moment, and now I have it. I chased it my whole career."
Van der Sar is world top for 13 years already. But his career had some odd bends. In 1999 the Ajax goalie moves to Juventus but he never really settles in Turin. Two season later, and Gianlugi Buffon is signed to replace Sar. The English Fulham has the ambition to attack the top 4 in the EPL and they sign Van der Sar. They fail to do so and after four season, Sir Alex Ferguson snatches Sar up. Finally. Schmeichel left a gap at the Red Devils and Sir Alex lamented an earlier decision, when he allowed Juve to buy the Noordwijk born goalie. So, Sar's autumn isn't spent in the grey mid-tier of the EPL but among the best of the world.
He retired as Oranje skipper at the EC 2008, after having played 128 internationals. In October he helps team manager Bert van Marwijk and Oranje when both Oranje's goalies are injured against Iceland and Norway. But he did repeat: it's only for this once!
Man United renewed his contract till the Summer of 2010. Not coincidentally, the WC is planned in 2010 as well. And if he keeps in 1,5 years as he does today, he belongs at that stage. What would be better than saying goodbye with the one prize you miss on your CV?
Subscribe

Netherlands World Cup Blog RSS Feed

Share
Comments are closed