2008: Edwin van der Sar, 13 years at the top!
December 30th, 2008 | by: Jan |

Comments(31)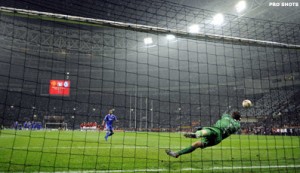 De Breuk with his Sar moment… Or…no wait…Sar in the CL finals with his Breuk-moment!
This December, Edwin van der Sar announced he will stay Man United's numero uno for another season. And why not? He is still one of the best in the world. 2008 was probably his most successful one ever. The 38 year old won the title with the Mancunians, the Champions League and the World Cup. Just like he did with Ajax 13 years ago. And this time around, he was also Oranje's best man at the EC.
"This is not a boys' dream, it's an old man's dream," Edwin laughed after denying Nicolas Anelka his penalty in the CL shoot out against Chelsea. "I needed my Hans van Breukelen moment, and now I have it. I chased it my whole career."
Van der Sar is world top for 13 years already. But his career had some odd bends. In 1999 the Ajax goalie moves to Juventus but he never really settles in Turin. Two season later, and Gianlugi Buffon is signed to replace Sar. The English Fulham has the ambition to attack the top 4 in the EPL and they sign Van der Sar. They fail to do so and after four season, Sir Alex Ferguson snatches Sar up. Finally. Schmeichel left a gap at the Red Devils and Sir Alex lamented an earlier decision, when he allowed Juve to buy the Noordwijk born goalie. So, Sar's autumn isn't spent in the grey mid-tier of the EPL but among the best of the world.
He retired as Oranje skipper at the EC 2008, after having played 128 internationals. In October he helps team manager Bert van Marwijk and Oranje when both Oranje's goalies are injured against Iceland and Norway. But he did repeat: it's only for this once!
Man United renewed his contract till the Summer of 2010. Not coincidentally, the WC is planned in 2010 as well. And if he keeps in 1,5 years as he does today, he belongs at that stage. What would be better than saying goodbye with the one prize you miss on your CV?
Subscribe

Netherlands World Cup Blog RSS Feed

Share
Comments

My personal Ronaldo theory is someone hid his McDonalds lunch and fries, he ended up with convulsions and withdrawal symptoms and threw a tantrum.
Poosibly pound for pound the fattest professional footballer to ever play in Serie A and still pretend to be serious about it. If you are making this kind of money, please out of respect to the fans and other people that pay your wages, the very least you can do is show a tad of respect and not spend all day at the buffet table.

vds is de vliegende hollander
he conquer the netherlands, england, europe, and the world.
http://i.dailymail.co.uk/i/pix/2008/07/29/article-0-015601F900000578-475_468×407.jpg
Posted from
United States

@Finnster: and Ronaldo signed for my team, Corinthians… yeah, I support Corinthians.
@Carlos: I'm more and more assured that, had VDS gone to Old Trafford in 1999 instead of going to Juventus as he did, he'd be the first-choice for SAF. Since then.

@Felipe: Sorry to hear that
Maybe the supporter club can buy him one of thoses slimming videos and make him use it.
Don't get me wrong. I have a lot of respect for Ronaldo (For the record, the Brazil version, not Divaldo). In his day he was clearly the best football player in the world, but he lost some of my respect in his later days at Real and Milan.
I like Brazil as much as the next Oranje fan. It seems like when Oranje cant make it, plan B is to cheer on Brazil. It is for me anyway. Although, my all time WC favorite is the 1998 Norway 2-1 Brazil. My country (Norway) went into complete disrepair, nobody showed up to work the next day, and it created the biggest street party the country has ever seen…

@Finn: Corinthians' supporters divided themselves into two groups: those who think Ronaldo will be wonderful in the team (most of us) and those who think Ronaldo is a was-great-but-his-days-are-gone. And there are the third group, in which I am: people who think everything can happen, either Ronaldo playing greatly or playing terribly. And the way he plays will decide if all the marketing plans Corinthians made on his signature will work or sink.
I must say: he's a good guy, some journalists say he even make some efforts to slim himself (avoiding McDonald's and junkie food, eating salad…), but he can't stop smoking – it's not said, but he smokes – and drinking some beer and whiskey. That's why he's so fat. And, even having to recover his form after his 3rd knee operation, he was found at a Madonna concert in Brazil, some days ago. Not good for a player.
Oh, you remembered that 2-1 in Marseille… we claimed a lot about the foul on Tore Andre which gave the penalty converted in goal by Rekdal, because we thought it wasn't a foul. Just the day after, with the images of a Swedish TV, we discovered that Junior Baiano (bad performance) really fouled Flo. I remember a image from Globo TV – Brazilian biggest broadcaster -, filming Frode Grodas' reaction during Rekdal's PK. He just could not believe when Kjetil scored.
BTW, a video from the legendary Holland-Brazil semifinal at France, by Globo TV. Please, forgive our too-much-passionate narrator, Galvao Bueno… Pele and Falcao are the commentators. One of the biggest audience ratings ever reached at Brazilian TV history. Enjoy! Happy New Year! http://br.youtube.com/watch?v=Ckcacl9zJRI

A Salute to Van der Sar.
A great keeper with perseverance and very good personality!

Van der Sar is among the 3 all time best goal keepers of the Netherlands (the other two being Jan Jongbloed and Johannes Franciscus ("Hans") van Breukelen). One of the things I will always remember about him is he always disappointed me when it came to the penalty kicks,making no saves.
The 1996 Champions League, AJAX vs JUVENTUS a game they should have won as defending champs comes to mind, and the major international competitions:
(World Cup 1998 against Brazil, not a single save by Van der Sar)
(Euro 2000 against Italy, which the Oranje should have won as host nation).
Van der Sar is without doubt one of the best goal keepers of this decade.
What set him apart from Buffon, Casillas… is that those great goalkeepers made saves when it came to the penalty kicks, and Van der Sar, although he always guessed the right side and often times touched the ball,never stopped the ball from going in.
In the past 4 years, his goal keeping ability and saves were pure magic,amazing…and he still has them in him. He has one of the best reflexes! A true leader who led by example, and one with a great character.

@Van Basten: You are somewhat harsh on EVDS penalty saving capabilities.
Whilst it is true that he didn't make the saves when needed most for the national team and penalty shoot-outs, he still was a wall. Especially in EC2008. As a club player for Man U, he made several crucial saves including penalties (last penalty to win the CL from Anelka, doesn't get any bigger than that). He also made a critical penalty stop at the Man City derby (regular league match) in 2007 to cement the premier league victory. Same year he saved 3 in a row in the Charity Shield game against Chelsea.
I wish he had a better day in the Oranje shoot-outs though, but for everything he has done for the country and 130 caps, and honestly, how can you possible say he is "one of 3 all time best Dutch keepers" ? He is hands down the man!! And I hate Man U by the way. How can you even compare Jongbloed to him? Jongbloed cost us at least one WC final victory.

@Felipe: You continue to amaze me. Now you show up with all this detail knowledge of Norway back in the nineties as well….And I thought I knew a bit about football…I tip my cap to you. But yes, that evening in Marseilles in 1998 is a legendary moment in Norwegian football history (we don't have many). Beating the reigning World Champion, being down 1-0 with 10 minutes to go, when a victory was the only thing that would see Norway through to the next stage, just sent the country into a complete chaos. I was back on vacation visiting family and I have never seen anything like it. Talk about watching grown men cry.
Good luck with Ronaldo, I would like to see it work out for him in the end. He was never a "bad" guy off the field, maybe a little naive at times. And if it is of any consolation, JC smoked too…

Well…It's 2009 in Australia, although here in the US its still 2008.
Happy New Year to Jan, and Thanks for being so dedicated to Oranje football. It was great reading your articles…and all the commentaries by the rest.Hope you enjoyed the fireworks and the magnificent view of Sydney Harbour.
To the rest of the guys on this blog….Happy New Year 2009: From Australia to Singapore, from China to India, from Hungary to Norway, to all those in Europe and especially Netherlands, from Egypt and South Africa to Guinea, from Times Square New York to Atlanta,Ga, from the East Coast to the West Coast of USA,from Brazil to Argentina, from Quebec to British Columbia and all over Canada, to the Islands all over the world!
HAPPY NEW YEAR 2009!
My best memory from the Oranje will be the Euro 2008, and our emphatic opening win against the World Champions Italy with a whopping score of 3:0.
Thanks to Jan…and All of You! We are here because we love Football and we love the Netherlands and all those who wear the Oranje jersey.
I LOVE YOU MARCO VAN BASTEN!!!
Welcome 2009!

Hi guys. I'm from Poland and I support Netherlands national team since 1998 FIFA World Cup. I remember those fantastic games versus Argentina, Brazil (damn penalty kick, Cocu and Ronald de Boer missed
), I have only 8 years when France World Cup was, I cried when Holland lose in semi-final. Euro 2000 was big trauma, penalty-kicks brrr. I hope that Holland will win 2010 FIFA World Cup that's my dream. Happy New Year for all Oranje fan.

Welcome Mathew, hope to see more of you around here!
I just finished catching up on all the articles I missed during the Christmas season and I'm looking forward to another great year on this blog. Happy New Year to everybody!
Posted from
Canada

to all you people ; have a great and healthy 2009 … its been a pretty good year on this blog (again)
my predictions for 2009:
1. Robben will get injured
2. C.Ronaldo will have a sex-change and join a circus
3. Hiddink will be made President of Ivory Coast
4. Feyenoord will win the dutch amateur title
5. Drenthe will get shot in a drugsdeal gone bad
6. Hiddink will be made President of China
7. Oranje will qualify for WC10
8. AZ will be champs in Holland
9. Hiddink will be made Master of the Universe
Posted from
Netherlands

@Goose: Hahahaha
Excellent. Here is my predictions:
1. Robben will indeed get injured
2. So will Babel
3. And Van Persie
4. C. Ronaldo will become President of the Portuguese Diving Federation
5. Coach Sollied (Hereenveen) will become coach of Norway
6. Hiddink will have an affair with Oranje Angel
7. Ajax will win Eredivisie and Alkmaar is left with cheese on their face
8. Oranje will qualify for WC2010
9. Oranje Angel will become president of KNVB
10. Brazil's Ronaldo will set a new world record in Nathan's World Hot Dog Eating Championship

like Goose and Finn i'm pretty sure as well that robben will get injured in 2009.
thx to Jan for this great blog. and thank you fellow oranje fans from the four corner of the world for your comments. i always enjoy reading this blog. it's great and hopefully will be even greater in the future. Happy New Year my friends and Happy New Year to oranje,too!
Posted from
Hungary

it seems ismeal aissati has chosen morroco over holland, to me that shows a complete lack of ambition

@sonneveld ; dont worry, no loss there .. Aisatti is a fine 'little-playground-player' but hes not good and strong enough to make it to the big boys .. i just think its a disgrace these people have still morrocan passports but thats just btw
Posted from
Netherlands

Well it's New Year in Singapore and all the best to all my buddies here. Finn have given up on Felipe. Thought he was a spy first but now just think he is one of those Google clones which Jan has put in. He seems to know everything about everything football!!
I am definitely a Brazil fan too. Fav team 1982 – Falcoa – Junior – Socrates – Zico etc but most of all Eder and his BOOMING free kicks !
Posted from
Singapore

gelukkig nieuwjaar/happy new year
long live orange
1. yes, Robben, babel, Persie, also wesley will get injured
2. yes, Ajax will win Eredivisie
3. yes, Oranje will qualify for WC2010
4. I will get a dutch girlfrind(maybe orange girl)
5. van der Wiel, Fer, Biseswar and Blind will play for orange A
6. gio and ooijer will retire before 2010
7. divaldo will cry again because portugal will not qualify for wc1200
8. also arshavin will get injured
9. jan will write more articles
10. http://www.youtube.com/watch?v=maHETHBi10w&feature=channel_page
Posted from
United States

wc1200
i mean wc 2010
Posted from
United States

Happy New Year, everyone!
My predictions for this year:
* Mark van Bommel will again get some cards on the pitch
* Oranje will qualify for WC2010 before June
* Confederation Cup Final: Brazil vs Espana
Posted from
Sweden

Haha
Love those predictions… Mine are coming up now!

@Carlos: Eder's free kicks…Holy Cow!!! I once saw a TV station (forget which one) that somehow had an angle right behind the goalie and you could see what he (the goalie) was seeing and they showed it in real time and slow motion, frame by frame. The way the ball moved was unbelievable…it went around the wall, continued sideways then changed direction and came back (!), only to suddenly go upwards (!!) and land right in the top corner. It looked like it was at 200 kilometers per hour and the goalie didn't even move. He just stood watching the thing.

Yeah man, that team to me is the best team ever (tied with Oranje 1974). That whole WC1982 was great, I think.
But indeed, Eder, Falcao, Zico, Socrates, Junior, Leandro, what a tremendous team. Only striker Lighthouse and the goalie were pedestrian, weren't they?
That WC also gave us Safet Susic (yugoslavia), Paulo Rossi, Bruno Conti… Great memories…

Hot damn, just saw the clip of Brazil – Oranje 1998…how many chances did Kluivert miss
?
Comments are closed